Kusatsu is Japan's most popular hot spring resort and boasts the largest quantity of natural hot spring water in Japan from many water sources. The distinctly Japanese townscape of Kusatsu creates a nostalgic atmosphere. In the center of this onsen town is the symbol of Kusatsu, "Yubatake (hot water field)". Here you can observe Kusatsu's traditional custom called "Yumomi" that lowers the temperature of natural hot springs. Why don't you relax and ease the stress from your trip and enjoy yourself at a Japanese hot spring?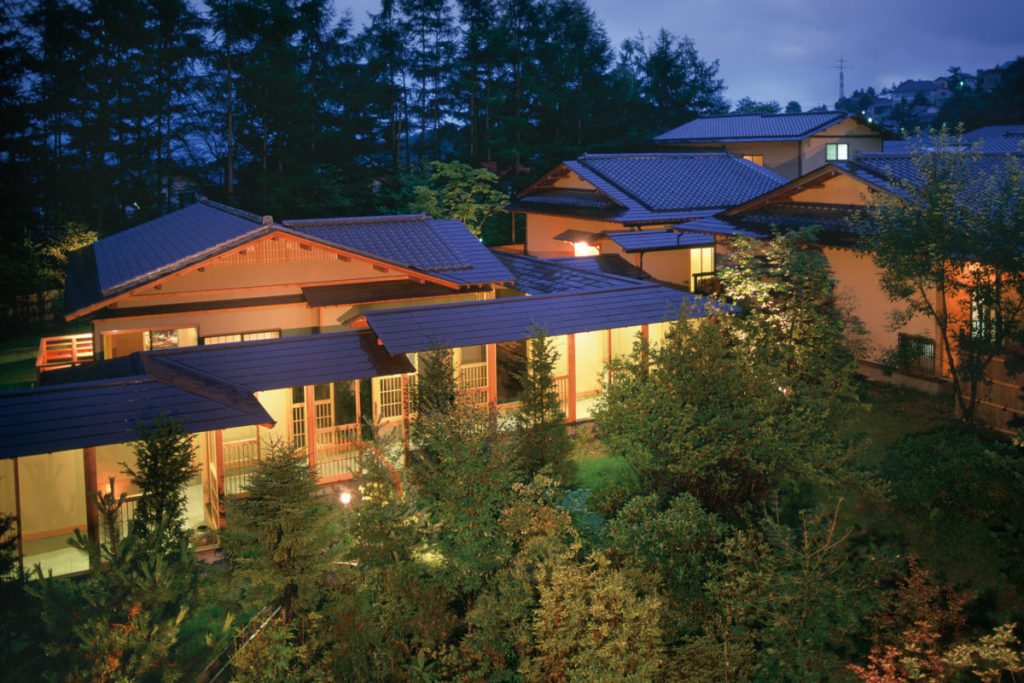 Tsutsujitei is a Japanese-style ryokan with a luxurious feeling, with only 10 rooms on a site of 16500 square meters of land. Four of the rooms are in a secluded area, and you can not only have your breakfast and dinner served in your rooms, there is a semi-open-air bath with hot spring water flowing in direct from the source. You can also explore the vast landscaped garden. For your meals, you can enjoy kaiseki cuisine created with the best ingredients, which is a feast for your eyes and your palate. This accommodation is recommended for groups and couples who want to spend relaxing time by themselves.
■ Access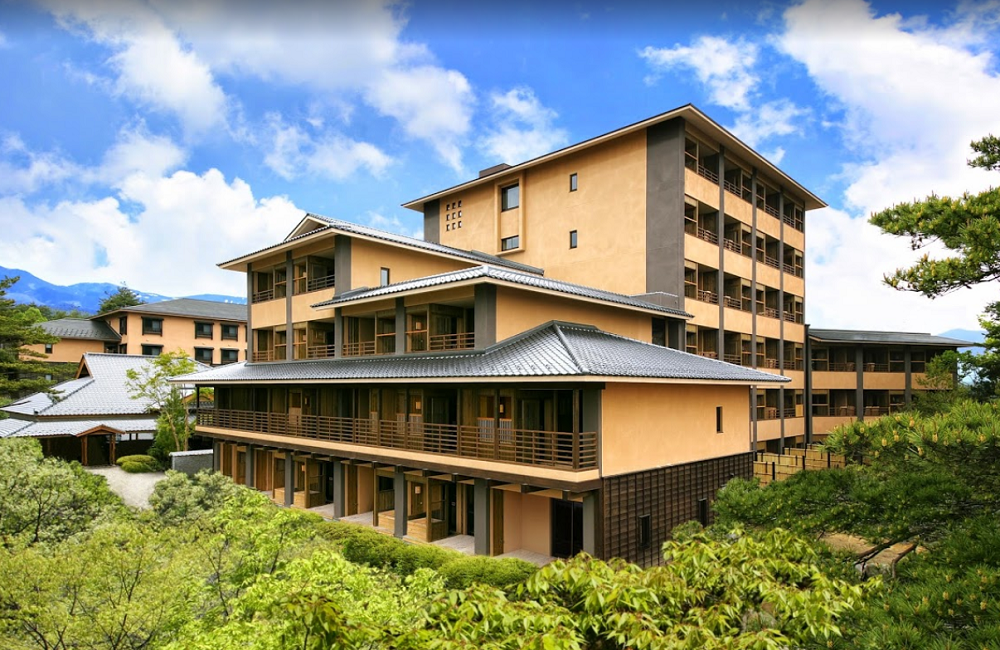 A Japanese-style ryokan that is a must if you're an onsen lover, as you can enjoy 23 different types of baths. All guest rooms have their own private outdoor baths and is suitable for guests that value their privacy. Their monthly kaiseki menu uses the best seasonal ingredients. Why don't you try Gunma's local sake together with your dinner? From 10 o'clock in the evening, the hotel provides complimentary Yonaki Soba noodles as a healthy snack, and you can enjoy drink services after a dip in the onsen hot spring. It is also great that the hotel gives you an option to choose from either Japanese and Western style breakfast in the morning.
■ Access:

Nara-ya is a ryokan founded about 150 years ago and has a long history and tradition. It has a distinctly Japanese atmosphere fit for a traditional ryokan accommodation. Their extensive facilities include straw tatami hallway and modern cafe bar. The onsen water for this ryokan is sourced from Shirahata hot spring, the first hot spring source found in Kusatsu. The onsen craftsmen then perform the Yumomi technique every day so the guests can bathe at optimal temperature. This onsen accommodation is ideal for families and couples, as it also has an open-air bath and a family bath that can be booked for private use. The Japanese style meals include a variety of dishes that uses plenty of locally produced ingredients, very healthy and allows you to enjoy many different sorts of flavors.
■ Access
4. Kusatsu's specialty gourmet
Just like other onsen towns, there are plenty of onsen manju (hot spring buns) stores, and you can snack on them while you explore the town too. In addition to snacks and light meals, you can also enjoy Japanese-style lunches like soba and tempura. It's also a good idea to buy souvenirs and other specialty items at local supermarkets! Why don't you spend lunch time and tea breaks on the shopping streets of Kusatsu, and then feast on luxurious kaiseki dishes at your ryokan accommodation.
■ Onsen Tamago (Hot Spring Eggs)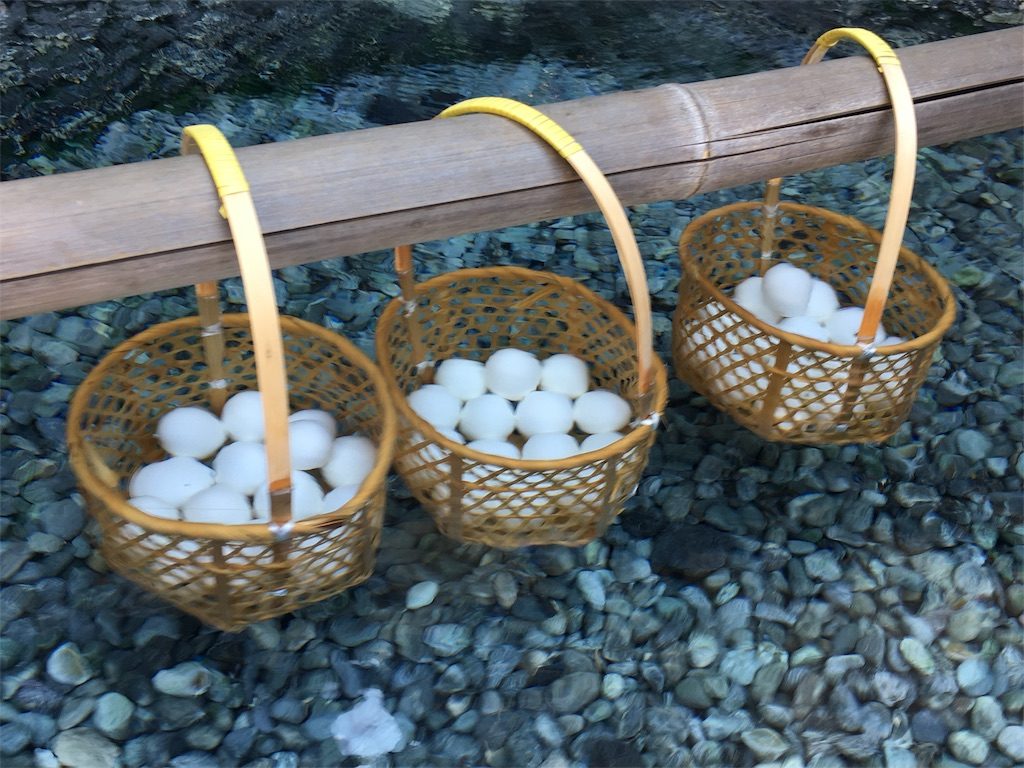 Onsen Eggs boiled in hot spring water are rich and creamy. You can experience the unique taste of an onsen town specialty with a texture very different from general egg dishes. You can purchase from just a single egg to try, so why don't you have it as a snack on the spot.
The onsen eggs sold at "Yoritomo" pickles shop located in front of Yubatake are well known, and here you can also enjoy Japanese traditional snacks such as konnyaku and amazake.
■ Konnyaku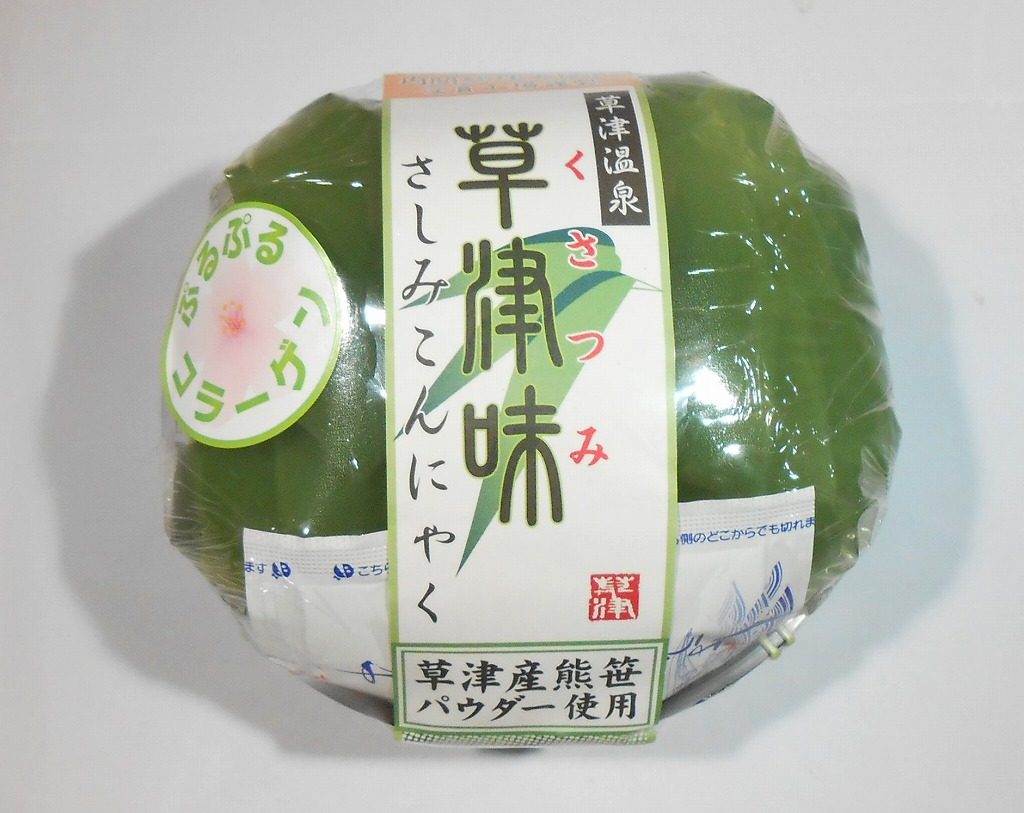 Konnyaku is a rubbery jelly like food that is made from Gunma's Konnyaku potatoes. Unlike konnyaku that is commonly sold in urban areas, Kusatsu's konnyaku is said to be more delicious as they are softer and chewier. Some people come all the way just to buy the Kusatsu konnyaku. Konnyaku Dengaku, where the konnyaku is boiled and smeared with miso paste, is also sold in Kusatsu's shopping streets. Since it is healthy and rich in nutritional goodness, you can have as much as you like! You may want to request in advance so it can be part of your meal at your ryokan accommodation.
5. Access to Kusatsu from major cities
From Tokyo
· From Tokyo Station (by car) – 192 km, 2 hours 53 minutes
· From Tokyo Station (by train) – 3 hours 58 minutes
From Yokohama
· From Yokohama Station (by car) – 226 km, 3 hours 18 minutes
· From Yokohama Station (by train) – 4 hours 2 minutes
* Depends on traffic congestion and road works.
6. History of Kusatsu & Travel Tips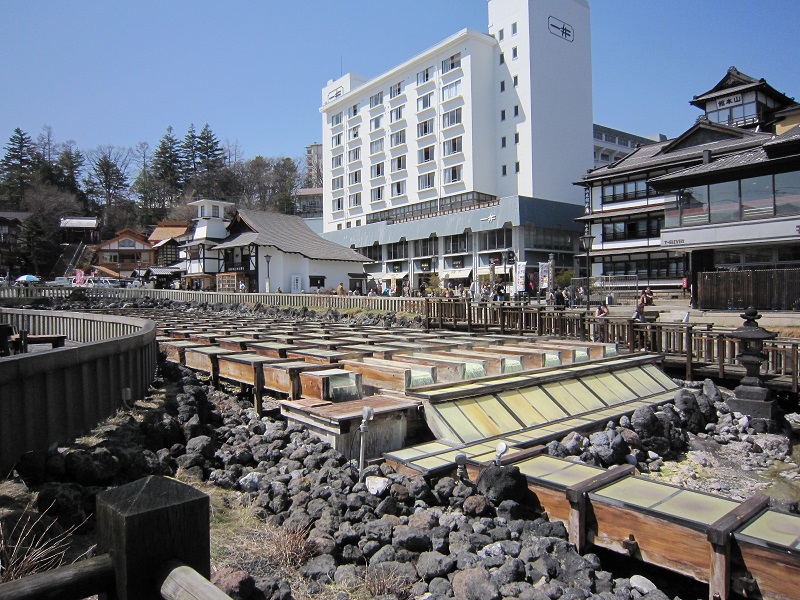 · Kusatsu has a long history as a hot spring resort. Many warlords and cultural figures visited this famous onsen since over 600 years ago.
· In 1878, Dr. Balz became the first foreigner to visit Kusatsu and helped spread its health benefits.
· The names of Japanese cultural and prominent figures who visited Kusatsu in the past are engraved on pillars of the Yubatake.
· The health benefits of hot springs include treatment for muscle pain, neuralgia, cold sensitivity, fatigue, recovery after illness as well as chronic skin diseases.
· The type of hot spring water at Kusatsu is acidic (water sourced from Yubatake) which is rare for onsen water in Japan, and it is said to have high sterilizing effect.
· As onsen water in Kusatsu is very hot, you should pour some of the water on yourself before you go in the bathtub so your body can get used to the temperature.