Have you ever participated in group tours and wished other travellers in the group would lower their voices or thought it would be better if the tour schedule was more flexible?
As private tours are a journey created just for you, the advantage is that you can travel according to your specifications.
We will now introduce you to private tours using chartered vehicles, which have become increasingly popular in recent years. If you were interested in private tours but wasn't sure how to use them or want to go sightseeing in a chartered vehicle next season, you may find the information useful.
What is a private tour?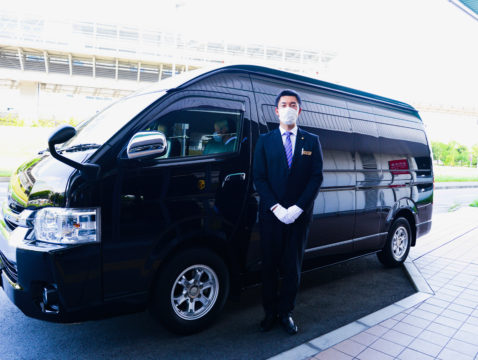 A tour that you participate in with other people is called a group tour or a shared tour. In these kinds of tours, you will ride on a bus with other participants to various sightseeing spots and enjoy activities and meals together. Although the tour price is economical, the disadvantage is that you need to worry about others around you and make sure you are on time for each part of the itinerary.
On the other hand, private tours are run especially for the person or group who made the tour booking. If the tour is for a small number of people, it consists of only the tour participants and the driver. For a larger group, a tour guide will also attend.
The advantage is the flexibility, where you can change the itinerary without worrying about other people. The disadvantage is the high price due to the small number of participants.
Types of private tours
There are private tour products for Japanese and non-Japanese customers. For Japanese customers, there are no communication issues as both tour participants and driver are Japanese. However, the tours for non-Japanese customers (called inbound tours) need crew members who can speak foreign languages.
Private tours for Japanese customers
These tours include pre-existing products or arranged tours designed just for you. We will describe the latter in detail later in the article, but the format is where the tour participants inform the travel agency or operating company a rough idea of their itinerary and ask them to create a tour itinerary. Usually, the itinerary is confirmed before the tour and tour is run within the specified time frame.
Private tours for non-Japanese customers
Unlike products for Japanese people, the main product for non-Japanese customers is mostly by arrangement. As most of these customers don't know a lot about Japan, only information they provide the travel agency (operating company) is their flight and hotel information so that they can start building their itinerary. Even if the itinerary is confirmed before the tour, there are often many changes requested on the day so most tours allow a lot of flexibility. Before Covid-19, demand for inbound private tours had been increasing in recent years, resulting in more and more need for drivers who could speak English and Chinese. It is essential for staff to be able to communicate well with the customers, as flexible response is required on the day of the tour.
Industry Terminology
An English-speaking driver is called an ESD (English speaking driver). A Chinese-speaking driver is called a CSD (Chinese speaking driver). The driver may also be referred to as DR.
Format of private tours
The private tour format includes one-day tours, golden routes and cruising excursions.
One-day tours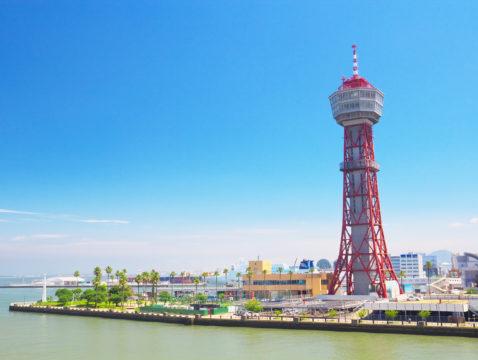 For one-day tours, the tour usually departs from and returns to the same hotel, and travels by car for 8 to 10 hours to visit various sightseeing spots. For example, a Tokyo resident decides to join a "Free Plan" where you just purchase an airplane ticket for a trip to Fukuoka. After arriving in Fukuoka by plane, they check in at the hotel. When sightseeing in Fukuoka, they would take a one-day private tour of Fukuoka city. A car will come and pick you up at the hotel, so you can just get on board to visit various sightseeing spots in Fukuoka city, and be dropped off at the hotel at the end of the tour. If public transport in the area is inconvenient, a one-day tour is even more beneficial.
The Golden Route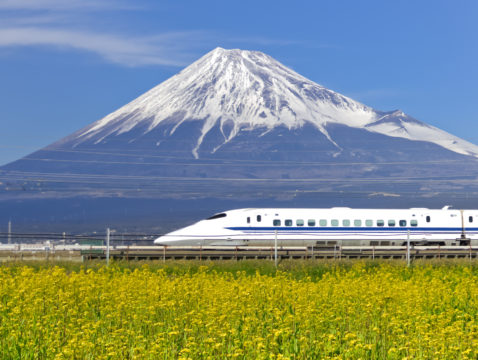 The Golden Route is a term often used in the inbound travel industry. This is a 7-day route that is often used by non-Japanese customers, where they arrive at Narita Airport, then travel via road from Tokyo/Nikko to Mt. Fuji/Hakone then to Osaka / Nara / Kyoto, and then finally departing from Kansai Airport. One can also take this route in the opposite direction. Although Hokkaido, Tohoku, Shikoku, Kyushu and Okinawa region are also popular, this Golden Route is the most popular for first-time visitors to Japan. You may feel a little cramped as the entire journey is by car, but the Golden Route is the most efficient way to experience Japan in a short amount of time.
Cruising excursion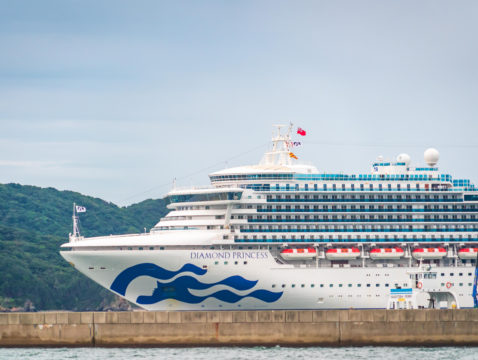 Cruising excursions are also called port of call sightseeing or shore excursions. These types of tours are when cruise passengers take a day trip at a port of call. As cruises often carry thousands of passengers at a time, some will join shared tours on large bus, while others prefer to choose private tours from the port of call. As time berthed at a particular port is limited, the tour itineraries often include popular tourist destinations close to the port. The following is a list of Japanese ports major cruises make a stop at and popular tourist destinations near the port.
Otaru Port: Sightseeing in Sapporo and Otaru
Hakodate Port: Sightseeing in Hakodate
Aomori Port: Sightseeing in Aomori, Iwate and Akita
Tokyo (Harumi Wharf): Sightseeing in Tokyo and Yokohama
Yokohama Port (Osanbashi): Sightseeing in Tokyo, Yokohama and Kamakura
Nagoya Port: Sightseeing in Nagoya
Kobe Port: Sightseeing in Osaka, Kyoto, Nara and Kobe
Hakata Port: Sightseeing in Fukuoka and Kitakyushu
Nagasaki Port: Sightseeing in Nagasaki
The feature of cruising excursion is that you can visit popular sightseeing spots near each port of call.
Differences from group tours (package tours) and shared tours
Group tours (package tours)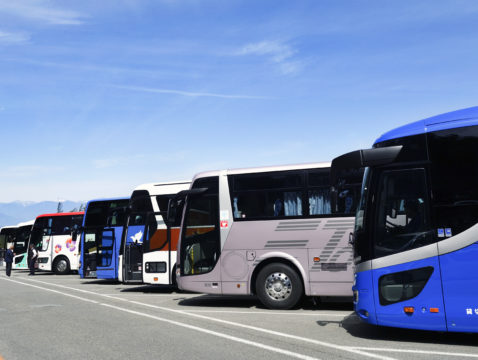 Although there are different ways to describe these tours, but here we will refer to group or package tours as a contrast to private tours. In these kinds of tours, sightseeing is the main part of the tour, and travel agencies create these ready-made packages and tour participants make a booking to join the tour. We will explain the difference between ready-made tours and arranged tours in detail later, but the ready-made tour is a tour format in which the customers participate in "fixed activities" at a "fixed date and time" and "dines at a fixed restaurant".
Some products offer a full package of flights, accommodation, transfer, meals and sightseeing, while others offer a more simplified package. With ready-made tours, you can enjoy sightseeing efficiently without the hassle of making booking arrangements yourself, but the schedule is not flexible and you won't have any free time away from the group.
Private tours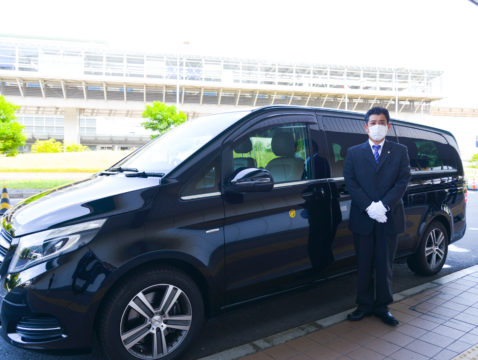 As explained above, a private tour is a tour that is run just for one person or a group, regardless of the number of people. Although participants must make their own arrangements for flights, hotels and meals, the advantage is that they have more freedom in their tour itinerary. The tour price will be higher than group/package tours, but the biggest attraction of private tours is that you can go where you want to go, eat what you want to eat, and go on routes that are not included on group/package tours.
What is the difference between ready-made tours and arranged tours?
Ready-made (package) tours
Ready-made tour is a tour format stipulated by the Travel Agency Act. For these packages, the travel agency prepares a plan that defines tour details such as travel destination, travel itinerary, transportation method and accommodation and the tour pricing, and advertise for customers via the Internet or brochures for the tour to go ahead. It is also commonly referred to as "package tours" because various inclusions are packed into one product.
The advantages of ready-made tour are the low tour cost and you save time and effort making various travel bookings yourself, so you are able to see many sightseeing spots efficiently. However, as transport method, accommodation, and itinerary are fixed, it may not suit your personal requirements or needs.
Arranged tours
For arranged tours, the travel agency will build the itinerary according to the traveller's requests. The travel agencies that sell private tours describe the basic itinerary of each product, but unlike ready-made tours, they customize the itinerary according to specific requests of the customer, so it would take some time to communicate back and forth with the agent. In addition, the tour price for custom-made itineraries will be higher than that of ready-made tours. However, as the itinerary incorporates only the places that the customers want to go and takes them to restaurants and souvenir shops that they want to go to, it is more likely that travellers will be satisfied with arranged tours!
Who should book private tours?
Private tours are first and utmost recommended for those who wants to go sightseeing at their own pace. In extreme terms, you can do anything during your tour! If you are within the time limit of the tour reservation, you won't be rushed no matter how long you stay at one tourist destination, and it is likely that they can meet minor itinerary changes. If you suddenly get tired you can take a rest somewhere, or you can choose to wind things up early and return to the hotel. Also, if you run late for a meeting time, only people you need to contact is the tour guide or driver as there are no other customers.
You may think private tours are only suitable for small groups, but private tours for large groups are also available. For example, you can organise private bus tours for large groups such as student alumni members or large family trips. If it is difficult for your group to participate in the same ready-made tour due to the large number of people, it is possible to organize a large private bus tour similar to ready-made charter tours. Since the tour consists of many people on a bus, it may become difficult have the freedom of a small tour group, but you will have more flexibility compared to packaged group tours. In these cases, representatives within the family or friend group will communicate with drivers and guides to decide on specific itineraries.
A private tour is a tour format that uses private vehicles and allows participants to adjust their itinerary freely on the day of the tour regardless of the number of people in the group.
What is included in a private tour?
1. Chartered hire car or bus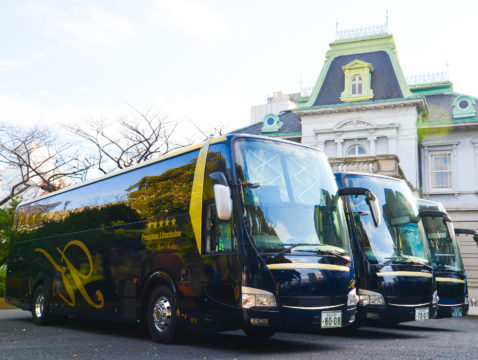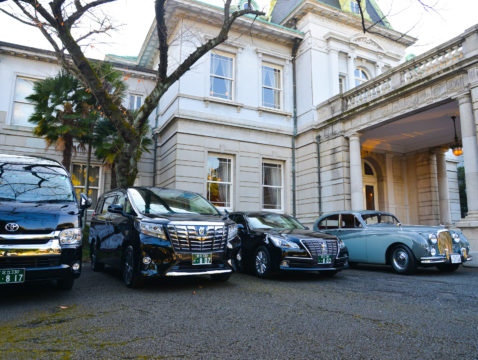 Private tours are basically hired vehicle-based tours. The type of vehicle used will vary depending on the number of passengers, but the most commonly used model is the Toyota HiAce Grand Cabin. This model is popular as it can accommodate up to 9 people and can carry many suitcases. It is said in the tourism industry that hire cars are relatively flexible with regards to changing itineraries, but buses tend to be more difficult to change on the day due to issues such as road widths and other restrictions. Although it depends on the driver, you should plan and confirm your itinerary in advance when booking a private tour by bus.
2. Tour guide (interpreter guide)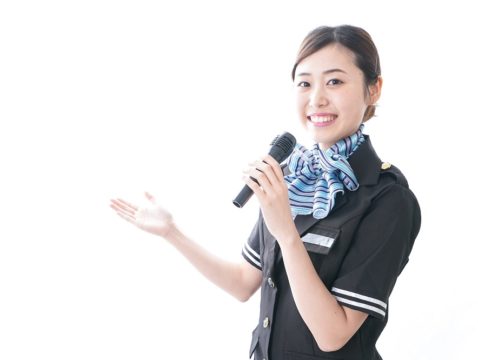 For small groups, the tour will usually be attended by the driver, but in the case of large groups, an additional tour guide is required for safety reasons and for the purpose of itinerary management. You may also have a tour conductor, but we recommend that you book a tour guide as they have more specialized knowledge to make your tour more enjoyable. For inbound tours for non-Japanese customers, an interpreter guide will be assigned instead of the tour guide as these tours require a qualified professional who can both manage the itinerary and communicate in a foreign language.
3. Restaurants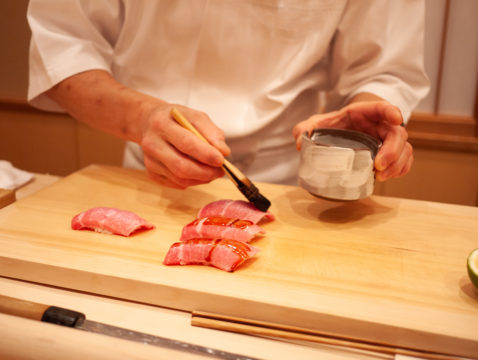 For private tours, restaurant reservations are often not included, giving customers the freedom to choose where they want to eat or make their own reservations. Some travel agencies will arrange restaurant bookings for you, but they may charge an additional booking fee. For small groups, we recommend that you make your own meal arrangements for the day. For large groups or if you would like to dine at a special fine dining restaurant, you may want to make a reservation in advance.
4. Accommodation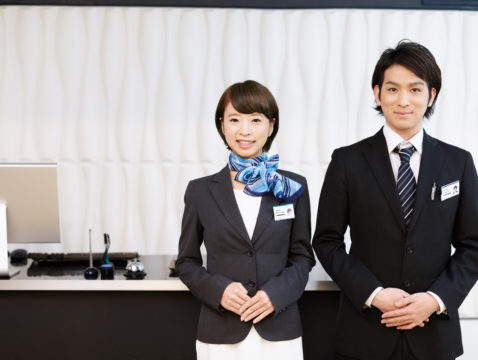 Accommodation is usually booked by the customer, but some travel agencies can make reservations for you. However, some luxury hotels and ryokans only accept bookings from specific travel agencies, so if you find this process troublesome or want to make sure you have a room available, you may ask your accommodation to be included in the private tour.
5. Tickets, etc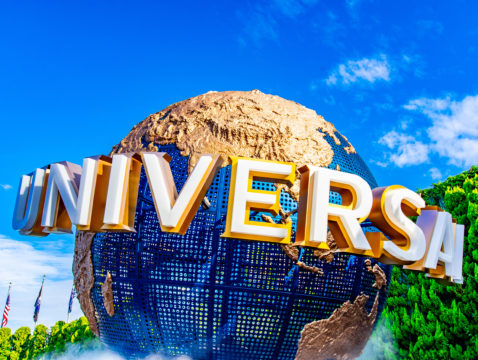 If your tour itinerary includes transfer via train or bullet train, or require tickets to theme parks such as Disneyland, we recommend purchasing those tickets in advance. Please note that the travel agency may not be able to pre-purchase the tickets for you in some cases.
Pros and cons of private tours
Pros:
You can participate in the tour without worrying about others
You can freely create your own tour itinerary
You can change the schedule on the day of the tour
Cons:
Higher price than packaged group tours
Since you'd like to go on a tour designed just for you, it takes time and effort to research the tour schedule in advance to some extent.
What services are included in private tours?
Pre-hearing process: The travel agency staff will hear your requests and needs and create a draft itinerary
Itinerary creation: After the pre-hearing process, itinerary creation process starts. The travel agency will build a detailed itinerary with departure/arrival location and time and tour schedule. Since there will be many exchanges regarding specific details, communication will usually be by email
Confirmation of itinerary and vehicle bookings: After the itinerary is confirmed, the agency will start booking vehicles, etc.
Other bookings: If required, book restaurants, hotels and other tickets
The day of the tour: For a small tour group, the driver will provide some tourist information. If it is a larger group, the tour guide will lead you
How to book a private tour
When should I book?
As it takes time to customize the itinerary according to your requests, it is better to book as soon as possible. We recommend that you book 3-4 months before the tour date.
Can I pay by credit card or bank transfer?
As private tours must be booked in advance, the usual payment method is advance payment. You can pay by either credit card or wire transfer. In rare cases, you may also directly pay in cash by going to the office of the operating company.
When are the busy periods and seasons that is harder to make bookings?
March-April: Cherry blossom season
July to August: Summer vacation season
September to November: Autumn holiday season
December: End of the Year
If you plan to book private tours during these seasons, it's better to get in early.
When booking private tours
How to choose your vehicle
Unlike airport transfers, you usually won't be carrying large luggage, so you can choose the vehicle with the capacity to carry the number of passengers in your group. Please note that the price will increase as the rank of the vehicle goes up.
Additional fees
We mentioned above that private tours allow more flexibility that you can change the itinerary to some extent during the tour. However, please note that there may be additional charges in some cases, such as highway charges for alternative tourist destinations.
Cancellation fees
If you do not want to use the pre-booked service on the booking date, please be sure to contact your service provider. No-shows will be considered a cancellation on the day of service and 100% cancellation fees will usually apply. Unlike airport transfers, you may have also booked a hotel or restaurant in addition to the vehicle, so don't forget to contact the service provider to cancel. We recommend that you make a list of places you have booked in advance.
Driver Name, Emergency Contact Information, Vehicle Number Plate Information
Please ensure you receive the driver's name, emergency contact, and number plate information from the service provider prior to the commencement of your service. Although most providers contact you on the day prior to your booking, some do not. It is always a good idea to request the details to ensure you can receive the service smoothly.
Summary on private tours
We hope you have enjoyed our introduction on private tours.
Private tours are very beneficial for those who prefers to travel just by yourself or your loved ones. If you want a tour with itinerary created just for you, and change schedule and route freely, private tour is the ideal option.
Private tours are also an ideal service for people with special needs, such as those with disabilities or for those who are pregnant.
Under the current situation with Covid-19, this service is the safest and smoothest option to use when sightseeing, so you can avoid getting too close to other customers.
Private tours by Japan Land Service
Finally, we would like to introduce you to the range of private tours provided by Japan Land Service.
We have a broad range of products for Japanese customers. Please browse through our tours that cover everywhere from Hokkaido to Okinawa.
https://japan-land-service.com/ja/tour/
Please contact us if you are looking for a location not included in the list. We will create a quote for an itinerary designed just for you!
We also have a wide range of private tour products for non-Japanese customers. The tour descriptions are provided in English and Chinese, so please feel free to take a look below.
(English): https://japan-land-service.com/tour/
(Chinese) : https://japan-land-service.com/zh/tour/
We will create the itinerary according to your arrival airport, so please feel free to contact us.
We have a large number of drivers who can speak English and Chinese.
We can also arrange interpreter guides for English, Chinese and other languages all over Japan.
Our official YouTube channel has information on various tourist spots, hotels, and restaurants in multiple languages. We hope you find it helpful.
https://www.youtube.com/channel/UCS92fT_-1UCJkMrsJKGaXiQ?view_as=subscriber
Booking procedure
1. Contact us by phone or email (Japanese, English or Chinese)
2. We will respond within 24 hours
3. Please provide us with your requests
4. Itinerary creation and confirmation
5. Reservation/Booking
6. Payment (via credit card or bank transfer)
7. We will arrange vehicles, tour guides, hotels and restaurants
8. Final confirmation (We will provide you with final confirmation of the reservation details before the tour date)
9. Day of the tour (We promise you a great time)
Contact Us:
TEL: 03-6339-9684
Email: info@japan-land-service.com
Virtual Tour
We have created virtual tours that mirror the itinerary of private tour products on our website. Please take a look as it may assist you with creating your own itinerary!
The online tours will be released on our official YouTube channel from January 2021. Thank you!
Promotional video of Japan Land Service: