The Kansai area is the second most popular base for sightseeing after Tokyo, and there are many places where you can see beautiful scenery with autumn leaves in this region. In the mountainous areas away from the big cities of Kyoto and Osaka, there are many scenic spots of the autumn leaves. The beauty of the contrast between distinctly Japanese architecture and temples against the colors of the autumn leaves is memorable. It is much easier to use a charter vehicle than public transport when you're going on sightseeing tour and autumn leaves viewing.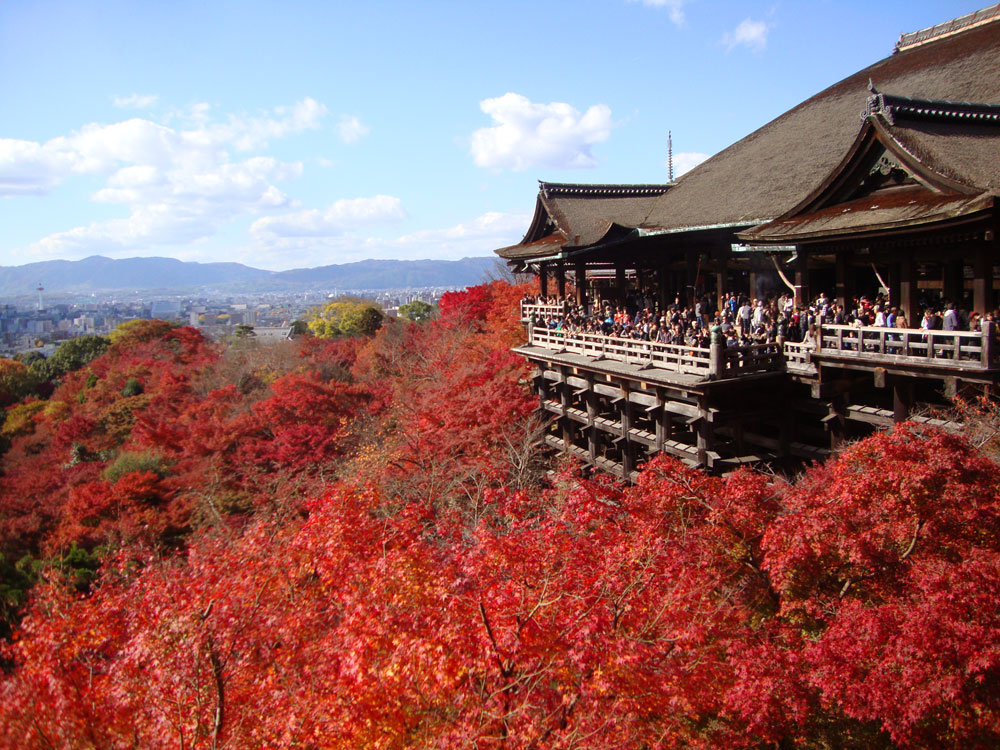 Kiyomizu Temple continues to attract tourists throughout the year, but it is also a great location to see the cherry blossoms in spring and autumn leaves in the fall. Beautiful red and golden trees of maple and gingko are wonderful in the autumn, and the view from the stage of Shimizu is especially stunning. The autumn leaves will get lit up from 5:30pm between mid-November to early December, and the view at night is also magnificent. It is a place you must visit at least once if you're going to Kyoto.
■ Worshipping Time: As the schedule changes often according to the season, please check their homepage for current information prior to the visit.
■ Typical Autumn Leaves Season: Late November – early December
■ Access:
■ Area information
Sanjusangendo is a popular spot for both local and foreign tourists, and you can view numerous national treasures and important cultural assets. The sight of 1000 life-sized Kannon figures are quite astonishing, and there are also other Buddha statues with unique impressions like Fujin (wind god) and Raijin (thunder god) for you to see. As it is 20 minutes by car from Kiyomizu Temple, it would be easier to transfer via a charter vehicle.
This is a sloped path with stone pavement that continues from the Gion / Yasaka area to Kiyomizu Temple. Old-fashioned buildings line the road, and you get a taste of Old Japan, Kyoto style. It has been designated as an important preservation district of historic buildings by the Japanese government, and it is a great spot to explore with lots of souvenir shops and cafés. Sannen Zaka is a perfect street for insta-worthy photos.
2. Kitano Tenmangu Shrine, Maple Garden (Kyoto city):       http://kitanotenmangu.or.jp/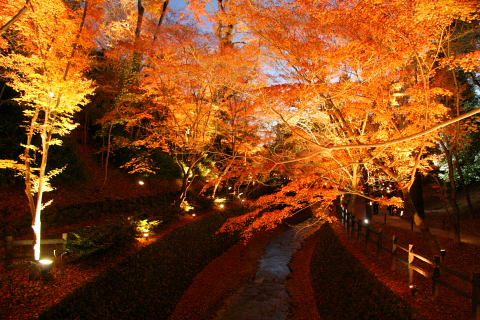 About 350 maple trees are planted in "Momiji-en (Maple Garden)", and it is a superb spot for viewing the brilliant vermillion leaves in season. In particular, the contrast between the autumn leaves and the Uguisu bridge over the river near the Maple Garden is breathtakingly beautiful. The view of the main hall (National Treasure) from the observatory together with the autumn leaves are also stunning. From the middle of November to the beginning of December, the trees will be lit up at night so you can enjoy a different atmosphere from the daytime.
Opening Hours 9:00am ~ 4:00pm, During light up period 9: 00am~ 8:00pm (Please check before visiting)
■ Typical Autumn Leaves Season: Late November – early December
■ Access:
■ Area information
Seimei Shrine is a shrine dedicated to the famous onmyoji, Abe no Seimei. Within the premises, there is a spring of "Seimei Water", which is said to be beneficial for intractable diseases. It is a unique shrine that has a star pentagram synonymous with Seimei all around the premises, such as the main shrine and the Peach Bust.
This is a specialty store of Kyoto confectionery, and you can enjoy beautiful Japanese style sweets that are also a feast for your eyes. In the café "Salon Tawaraya", you can order items like Matcha green tea or Anmitsu (dessert bowl with jelly, red bean and fruit). Don't miss trying the Kyoto style sweets at this long-established store.
3. Metasequoia Trees (Takashima City, Shiga Prefecture): https://takashima-kanko.jp/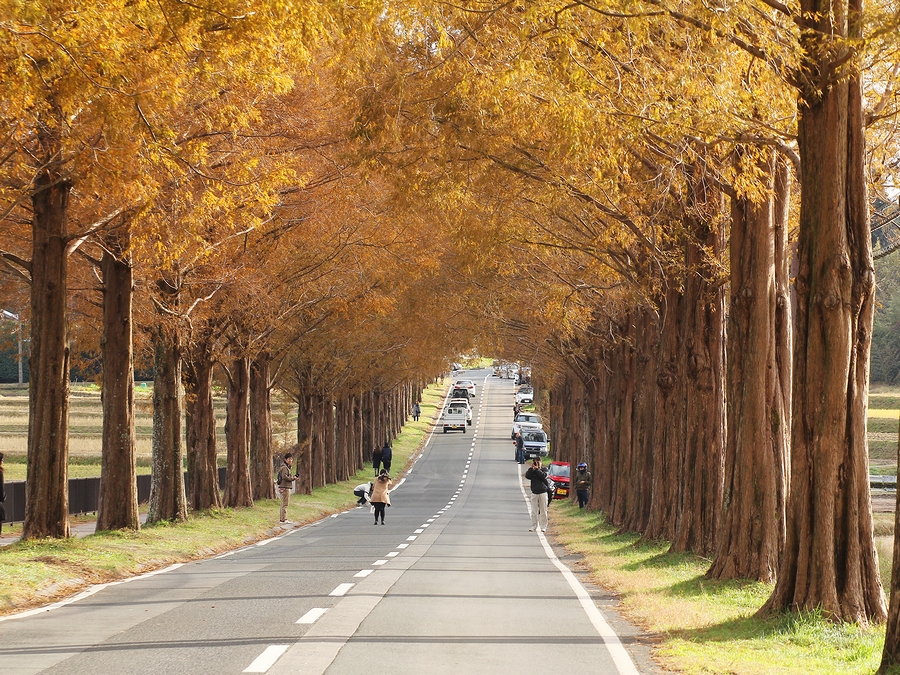 This is a famous spot for autumn leaves viewing on the banks of Lake Biwa in Shiga prefecture, about 1 hour 30 minutes by car from Kyoto. Approximately 500 Metasequoia trees are planted on both sides of the road of about 2.4 km leading to the Makino Plateau, creating a scenery that can only be seen here. Although the leaves here are not crimson color like Momiji maple leaves, but the scenery with unique brick colored leaves is quite stunning. We recommend you hire a charter vehicle so you can get to and from this location in a breeze.
■ Typical Autumn Leaves Season: Late November – early December
■ Access:
■ Area information
This is an agricultural park where you can pick various fruits in season. Depending on the season, you can pick blueberries, strawberries, chestnuts and apples. In addition to the orchards, there are facilities such as golf courses, restaurants and a shop that sell local produce direct from the farm. It is convenient place to take a rest in between sightseeing. You should stop by when you're visiting the area to see the Metasequoia trees.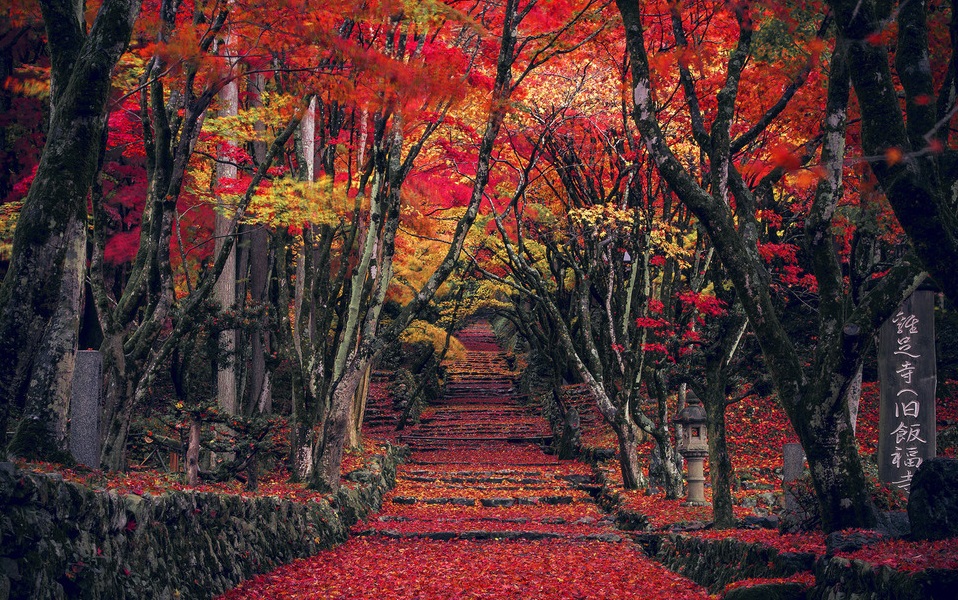 Approximately 200 maple trees are planted on the road approaching the temple, and the fallen leaves forms a red carpet to welcome the visitors. The autumn leaves that paint the quiet temple precincts in red are splendid and creates a serene atmosphere. It is also a great spot for taking pictures. Since there will be more parking available from November 10th to 27th (TBC), you'd want to visit using a charter vehicle. As the road that leads to Keisoku-ji Temple is very narrow, you should leave the driving up to the professional drivers to be on the safe side.
■ Typical Autumn Leaves Season: Late November – early December
■ Access:
■ Area information
At Kurokabe Square, refurbished old Japanese style buildings from the Edo period to early Showa period line the streets, with cafes and shops scattered all around the area. The Kurokabe Glass Building in the center used to be a bank built over 100 years ago and is now a facility where you can experience a tour of glassware products and glass making workshops. You will enjoy a modern and nostalgic atmosphere at Kurokabe Square. It is perfect for searching for souvenirs.
Inside the castle-shaped museum, there is an exhibition room where you can learn about history and culture of the region, including about famous warlords like Toyotomi Hideyoshi. From the observation deck on Level 5, you can enjoy a panorama view of Lake Biwa, the largest lake in Japan, and the mountains.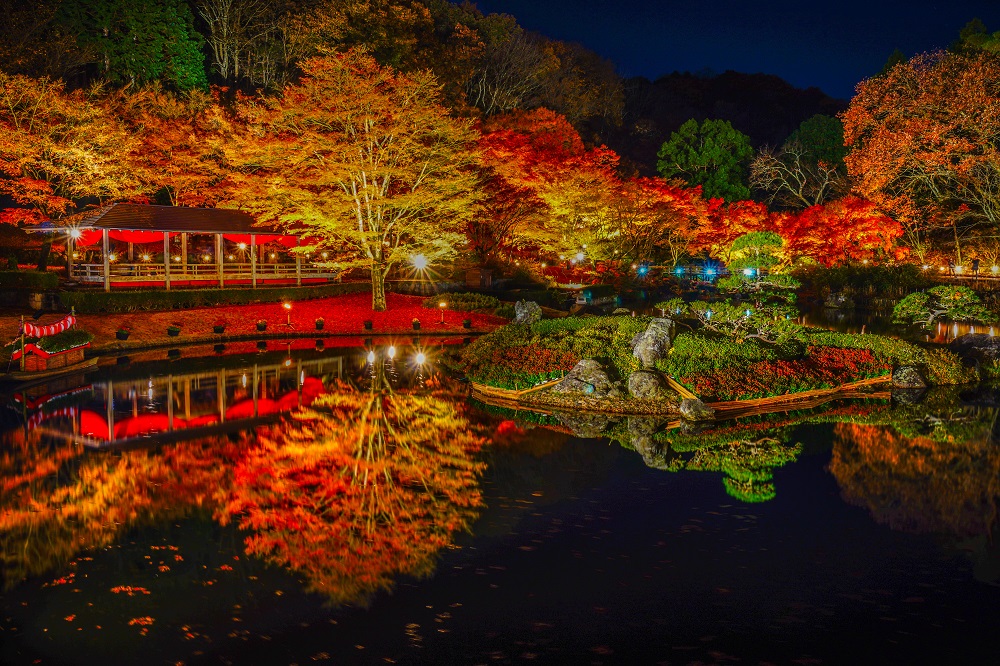 Mino Falls is a famous sightseeing spot with a waterfall 33 meters in height, but its beauty in autumn together with the color of the leaves is exceptional. The waterfall seen through the curtain of red maple is impressive and memorable. The contrast with the golden color of the ginkgo and the green color of the trees is also superb. As it is in the mountains away from the city center, it is more convenient and easier to transfer via a charter vehicle.
■ Typical Autumn Leaves Season: Late November – early December
■ Access:
■ Area information
Otowa Sanso is a Japanese wooden building surrounded by nature, and it is a rest house with a lovely calm atmosphere. The facilities include a restaurant that serves dishes made from seasonal ingredients, foot bath where you can relax looking at the waterfall, and ganban'yoku (hot stone spa). It can also be used as an accommodation facility.
Katsuo-ji Temple has a very large temple grounds and is a well-known spot for autumn leaves viewing. Many worshippers visit from home and abroad, as it is said that this temple will provide good luck for those preparing for competitions and examinations. There is also a big pond of Benzaiten (God of Fortune) and a spiritual spot called the "ring of wisdom". There is a café, so you can take a break after exploring the premises. We recommend the cute Daruma doll for you to take back as a souvenir.