You can enjoy some spectacular views of the autumn leaves as Japan is very rich in nature. The contrast of red and yellow colored leaves against the traditional Japanese style buildings and temples is an impressive sight, fit to be on a painting. The autumn leaves seen together with natural beauty like lakes, rivers and gorges are also magnificent. Please make full use of the charter vehicle and enjoy the tour of various sites where autumn leaves are at its wonderful best!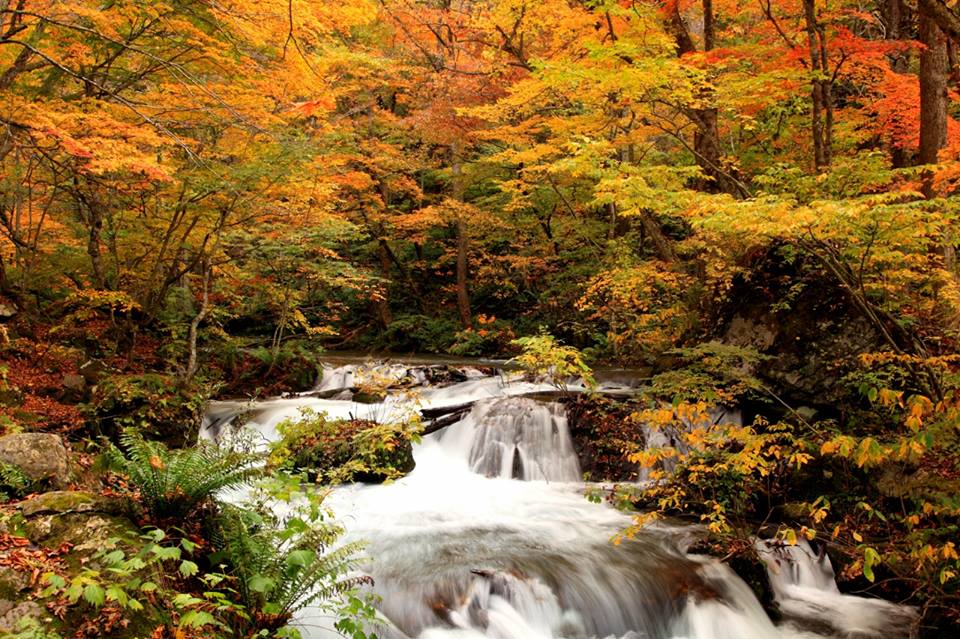 Oirase Stream is the only river flowing out of Lake Towada that is famous as a sightseeing spot. It has also been designated as National Site of Natural Beauty by the Japanese government. Many tourists visit from home and abroad as a spot with a great view of the beautiful landscape all throughout the year. With deep forests, mountain streams and around 14 waterfalls in the area, you can be sure to enjoy a spectacular natural beauty. During autumn leaves period, you will see splendid red-colored maple and golden ginkgo biloba leaves. Exploring the area while trekking will enrich the heart of many visitors.
■ Typical Autumn Leaves Season: Mid to late October
■ Access MAP:
■ Area information
This is a rest house at the entrance to Oirase Stream, where you can purchase souvenirs or enjoy local specialties at Oirase Garden restaurant. You can also have agricultural products sent directly from the farm or local specialties like Senbei-jiru (rice cracker soup) and Towada Barayaki (grilled beef ribs). There is also a large parking lot, so it is a convenient location to drop by before you explore the area.
Famous as Aomori's scenic spot, Lake Towada acts like a mirror that reflects the stunning views of the mountains and the sky. It is a lake that was formed via volcanic activity about 200,000 years ago and is the third deepest lake in Japan. From April to November, you can enjoy leisure activities such as canoeing and boating, as well as taking a ride on a tour boat.
2. Chuson-ji (Hiraizumi, Iwate Prefecture):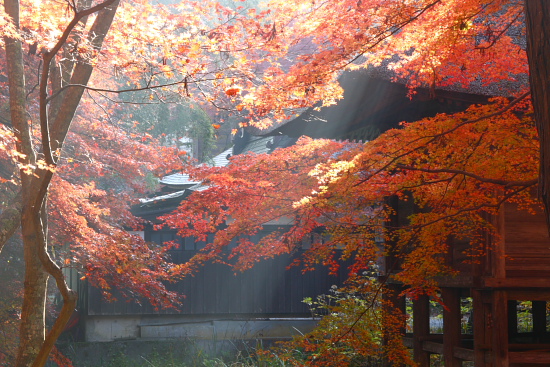 Famous as a world heritage site, Chuson-ji temple is a historic temple with a golden Konjikido building that remains since the time of its inception in 1124. Many tourists visit throughout the year, but from late October to early November, many come to appreciate the splendid contrast of the vermillion maple leaves and the golden Konjikido building. Autumn Fujiwara Festival will be held between November 1st to 3rd, and you can observe a parade of children and holy men, and local performing arts performances.
■ Typical Autumn Leaves Season: Mid October – early November
■ Worshiping time: March 1st – November 3rd 8:30am ~ 5:00pm, November 4th – end of February 8:30am ~ 4:30pm
■ Access:
■ Area information
Motsu-ji is located near Chusonji and is also famous as a world heritage site. The Japanese garden called Pure Land Garden with a pond in the center, and relics of the monastery from the Heian era are almost preserved as it is, and it is a temple with a high historical value. If you book in advance, you can also experience Zen meditation.
· Worshipping time: 8: 30 am – 5 pm
※ From November 5th to March 4th from 8:30 am to 4:30 pm
This is a restaurant and food court facility near Chuson-ji and Motsu-ji, where you can eat Iwate's local produce and specialties. There are a wide range of souvenirs available, and there is also a Hiraizumi Cultural History Center where you can learn about Hiraizumi culture. There is a large parking area, so you should utilize this location for tea or lunch breaks during your sightseeing tour.
3. Kakunodate (Kakunodate, Akita Prefecture)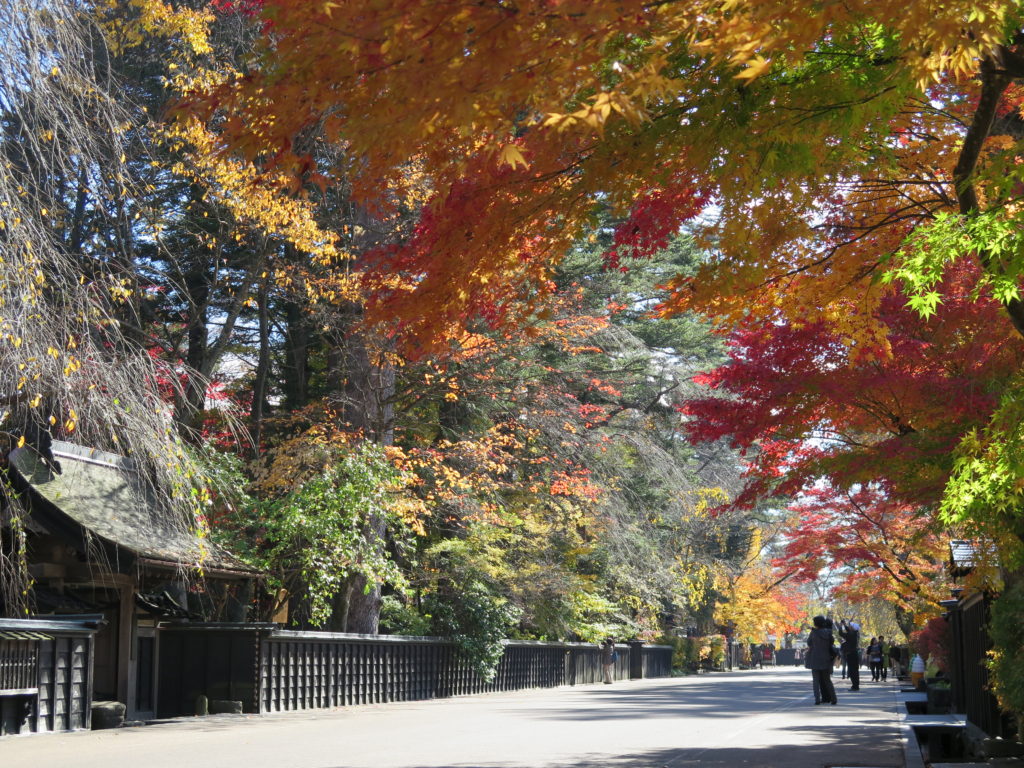 There is a remnant of a castle town at Kakunodate and while it is famous as a cherry blossom spot in spring, it is also an amazing location to see the autumn leaves. The vermillion and golden colors of maple and ginkgo leaves make a beautiful contrast with the black board wall of the samurai residences and creates a uniquely Japanese landscape. The autumn leaves will be illuminated in the evenings until around 10pm, so you should pay a visit at night if you want to avoid the crowds. It is also in a convenient location, only 5 minutes away from JR Kakunodate Station by car.
■ Typical Autumn Leaves Season: Mid October to mid-November
■ Access:
■ Area information
Within the very large premises, you can take a look at many samurai tools/accessories such as helmets and antiques and other research materials from the area. It will be a valuable experience as you can actually touch the helmets and swords and take a good look. There is also an exhibition hall with a gramophone and other antique items. You can take a break at their restaurant or browse the souvenir shop while you're here.
· Inaniwa udon
Inaniwa Udon is known as one of the top 3 udon noodles in Japan. These thin udon noodles are characterized by elastic and slippery texture. In the olden days, it used to be a luxury udon that ordinary people could not get their hands on. It is refreshing and easy to eat, and goes well with tempura, etc. Many of the restaurants in the area serve Inaniwa Udon, so why not try some for lunch?
4. Nyuto Onsenkyo (Akita / Tazawako)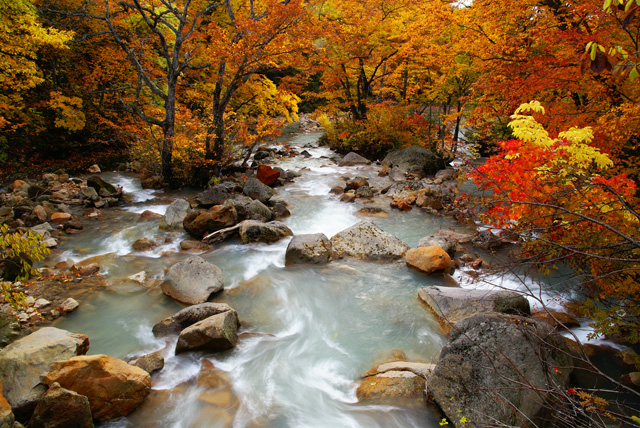 Surrounded by deep mountains, this hot spring village of only seven accommodation facilities has a somewhat secluded atmosphere. Here you can enjoy autumn leaves while immersing yourself in an open-air bath. You can truly relax when you soak in the hot spring while you listen to the sounds of the river and enjoy the view of the mountain covered in beech tree shining in vermillion or golden color in places. As it is in the mountains, it will be much smoother to use a charter car than public transport.
■ Typical Autumn Leaves Season: early October
■ Access:
■ Area information
Lake Tazawa is the deepest lake in Japan, and the color of the surface is a mysterious lapis color. It is a spot where many tourists visit every year. In addition to historic sights, you can enjoy leisure facilities such as driving, cycling, and pleasure boat rides from the lakeside. You can stroll and enjoy the rich nature of the area.
·Kiritanpo
Kiritanpo is Akita prefecture's specialty cuisine, and it is made by toasting mashed rice that has been shaped like a cylinder around a stick. It is a traditional dish of Akita, where you eat it by dipping it in miso or other sauces. Why don't you try it at your ryokan accommodation or at a city restaurant, or even take it home as a souvenir?
5. Naruko Gorge (Miyagi prefecture · Naruko Onsen)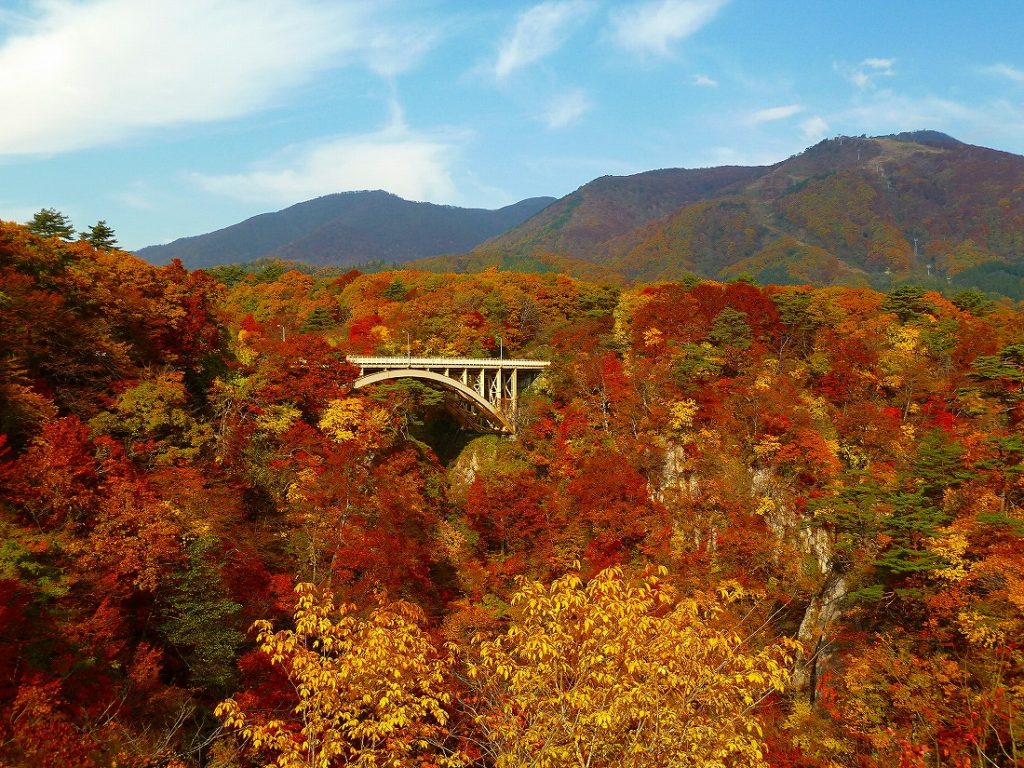 Naruko Gorge is a scenic spot full of autumn colors that you can only reach by car. The autumnal leaves that decorate the V-shaped canyon with a depth of about 100m is just stunning. With the amazing view that you can get from the top of the cliff, it is said that this is the number one location to see the autumn leaves in Japan. The golden leaves and the green of the pine pop in between the red maple leaves and creates a wonderful sight just like a beautiful painting. As it will be congested during autumn leaves season, you should pay a visit early in the morning with your charter vehicle, so you have more time to appreciate the view.
■ Typical Autumn Leaves Season: Late October to early November
■ Access:
■ Area information
At this rest house, there is large parking area and a lawn, and it is convenient for lunch and tea breaks. On the observatory deck in the building, you can enjoy wonderful views such as the bridge that hangs over the valley. You can also find some snacks and other local specialties, so it is best to stop by before or after taking a tour of the autumn leaves in the area.
At Naruko Onsen hot springs with a history of more than 1000 years, you can take a short dip without staying overnight. Taki no yu (Waterfall Baths) that recreates the bathhouses of the Meiji Era is particularly famous and you can experience the atmosphere of a traditional Japanese public bath. It would be a good idea to stop by after enjoying the autumn leaves. You can also stay overnight at a Japanese style ryokan accommodation to relax.