In winter, pure white snow decorates the traditional Japanese style buildings, castles and historical architecture. The landscape is breathtakingly beautiful and takes me away to a fantasy land. There are a plenty of great spots to take photos as well! As it will be severely cold in all snow countries, it is more convenient get dropped off and picked up by charter vehicles when you're visiting these locations.
1. Otaru (Hokkaido)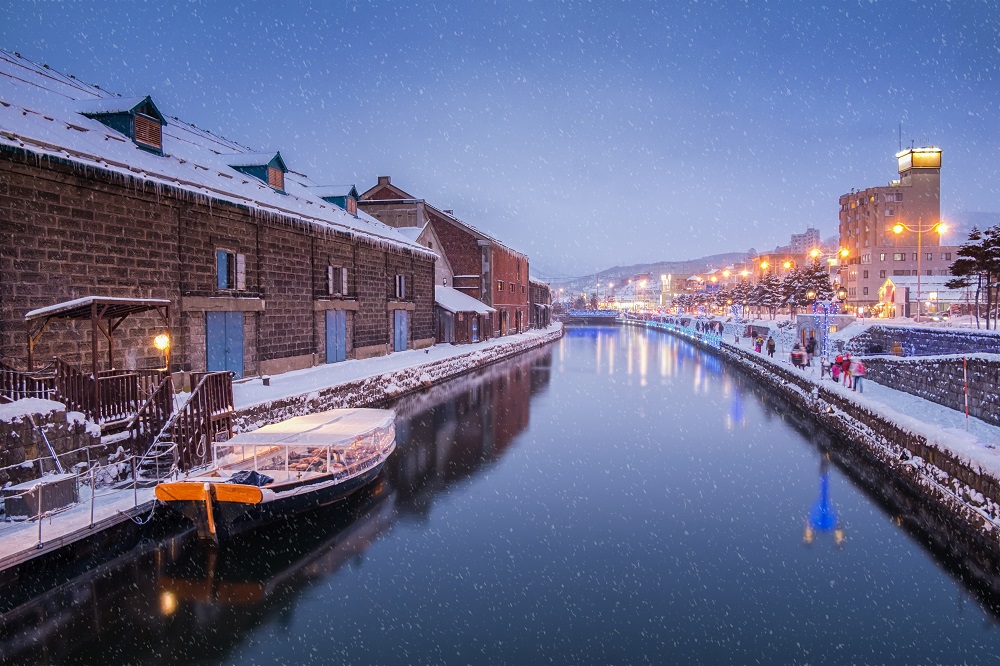 Otaru is a commercial city once called Wall Street in the north, and the Otaru Canal is a nostalgic area with rows of brick warehouses. The white snow on the cobblestone canals and historic buildings make a fantasy-like scene, and makes you feel like you'd wandered into another world. The gas lights are turned on at dusk, creating a romantic atmosphere. As it will be very cold, we recommend that you arrange a charter car to transfer you to and from the area so you can enjoy sightseeing with minimum hassle.
■ Typical Snow Season: December – March each year
■ Access:
■ Area information
This observation deck is located behind Otaru Station and is located on a hillside at an altitude of 190 meters. From here you can overlook the undulating landscape of Otaru City and Otaru Port. It is good location to stop by and take a break during your drive around the area.
This magnificent renaissance-style building stands out in the snow. The exhibits are also extremely interesting, and it is a place where you can have experience such as stepping into an actual safe or handle Japanese currency totaling 100 million yen. Since there is no parking, it would be better for you to arrange transfer to and from the museum via a charter vehicle.
2. Shirogane Blue Pond (Hokkaido):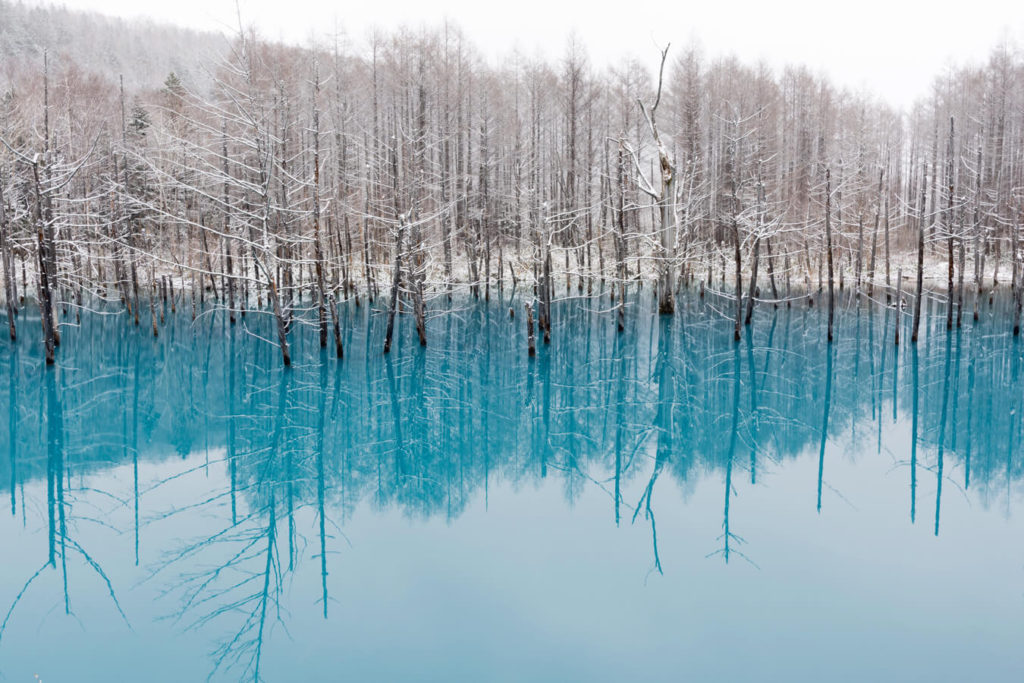 The Blue Pond is in the increasingly popular Biei area, where you can enjoy beautiful lush greenery and flowers in spring and summer. During the evening, the area around the pond is lit up and you will be able to enjoy a uniquely fantastic snowscape. In winter, the surface of the pond freezes over so you cannot see the blue pond itself, the look of the pond changes depending on weather and temperature. As it is far from the city area it will be easier to visit via charter vehicle, but make sure you do some research before you visit the area.
■ Typical Snow Season: December – March each year
■ Access:
■ Area information
· Bogakudai Rest House
Located about 5 km from the Blue Pond area, this is a rest house with a view of Mount Tokachi. With a large parking facility, it is convenient place for lunch and tea breaks as they serve specialty Sansai (Mountain Vegetable) Soba and soft serve ice creams. As it may be closed during winter, please check in advance.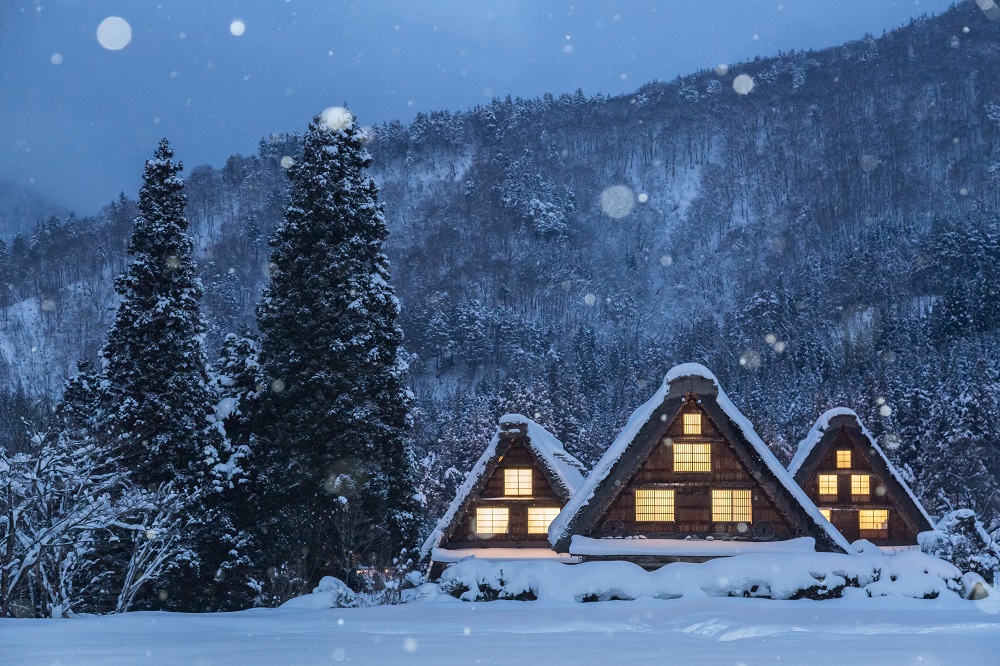 Shirakawago is a sightseeing spot also registered as a World Heritage site and it is located deep in the mountains. It is famous for the houses built in Gassho-style (Japanese architectural style, characterized by a steeply slanting thatched roof), and the snow on top of the roof creates a fantastic scene like you've been transferred to another world. It is a great spot to take photos, and the unique snowscape that you can only see here is truly magnificent. As the way to Shirakawago is through mountain roads, it will be much easier to visit by hiring a charter vehicle so you can get driven by a professional driver familiar with the roads in the area.
■ Typical Snow Season: December to February each year
■ Access:
■ Area information
Located in Shirakawago, Myozenji is a rare as it is a temple built in Gassho-style. Although the appearance is also interesting, its popularity is because of the view you can get from the inside. You can also look at the exhibits such as old everyday tools and research materials and learn about history and traditional culture of the area. The bell tower gate with a thatched roof is also famous and complements the wonderful snowscape.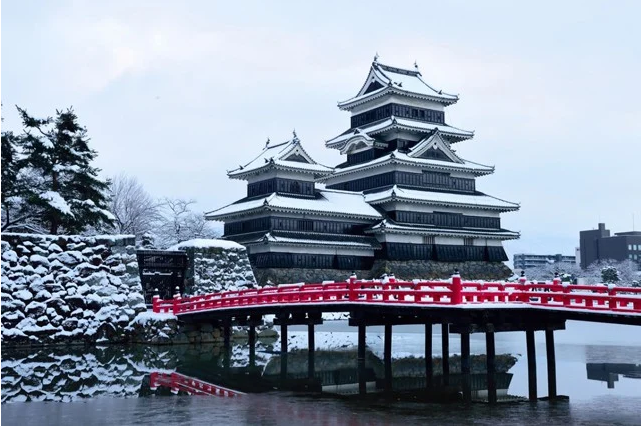 If you want to visit a Japanese castle decorated in snow, Matsumoto Castle is the one for you. Among the castles still in existence, Matsumoto Castle is the oldest and with the most historic value, and thus it has earnt the national treasure status. The black and white exterior of the castle with the mountains in the background create a brilliant and memorable snowscape. Since it is very cold in winter, you can explore in a relatively relaxed manner as there are few tourists that brave the cold. As it is quite accessible from Nagoya and Tokyo, it is somewhere you'd like to visit by chartering a car.
Opening hours: 8: 30am-5: 00pm
■ Typical Snow Season: December – February
■ Access:
■ Area information
There is a remnant of a town built around the castle, and this retro atmosphere is especially evident at Nakamachi Street lined with buildings that used to be warehouses. Nawate Street is a street that recreates the atmosphere of a castle town, and it is crowded with variety of shops that sell toys, antiques, sweets and snacks. The Castle Town is somewhere you can explore after doing some sightseeing.
This art gallery exhibits numerous works by Yayoi Kusama, the avant-garde artist originally from Matsumoto city, some of which are displayed on the outside of the gallery building. Kusama's iconic dot artworks are masterpieces. Various other exhibitions are held throughout the year.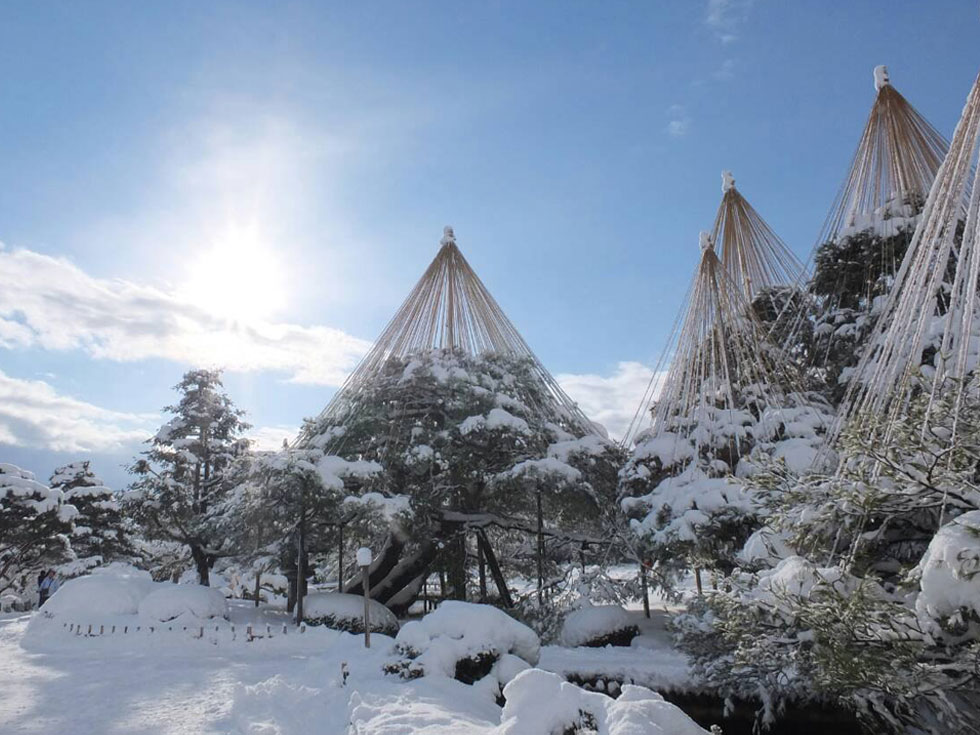 Kenrokuen, renowned as one of Japan's top three gardens, is a Japanese garden that was treasured and carefully maintained by historical lords of Kanazawa. Although the garden displays magnificent seasonal flowers and plants, the snowy landscape in winter is particularly stunning. The snow on pine trees and wooden buildings create a unique atmosphere and you can enjoy a distinctly Japanese snowscape at Kenrokuen.
■ Opening Hours: March 1 – October 15 7: 00am ~ 6: 00pm
Opening Hours: October 16 – February 8: 00am – 5: 00pm
Closed: Open 365 days a year
■ Typical Snow Season: December to February
■ Access:
■ Area information
Lined with old-fashioned wooden buildings throughout the area, you can explore the retro cityscape where you can get in touch with traditional Japanese culture. It will be fun to taste Japanese style sweets at the cafe or snack on a famous gold foil soft-serve ice cream as you walk the streets. There are also shops where you can purchase specialty items full of originality, such as pottery shops and Japanese sake shops.