Although you might think of Tokyo as a metropolis, if you head towards the western part of Tokyo you will enter residential areas with lots of nature. As you can see the cherry blossoms on a relatively large area than in the city, you enjoy hanami (cherry blossom viewing) like you're on a picnic. We will introduce you to various cherry blossom spots in the West Tokyo area with easy to access from Tokyo station and Shinjuku.
Popular cherry-blossom viewing (Hanami) Spot Ranking – Tokyo (West Area)
1. Inokashira Park (Musashino City)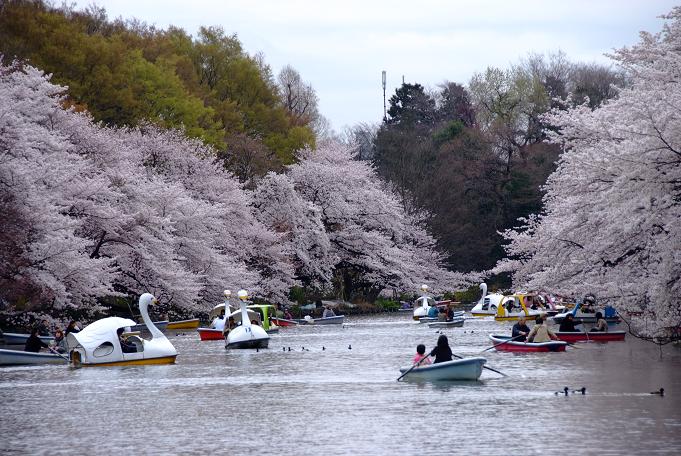 ■ Highlights: About 600 cherry trees are planted surrounding a large pond at the center of the park. The view of the cherry blossoms from the Nanaibashi bridge across the center of the pond is magnificent. The contrast of the flowers against the water surface is a thing of beauty, and many hanami visitors come here every year.
There are many features you can enjoy while you stroll around the park, such as Benzaiten shrine, spring water and the botanical garden. There's a zoo and the Ghibli Museum (reservation required) close by, so you may want to visit when you're in the area to see the cherry blossoms.
■ Typical Blooming Season: Late March to early April
Access: https: //goo.gl/maps/sKN6468QabB2
■ How to avoid the crowds: The park will be crowded day and night during cherry blossom season, and you should brace yourself for massive crowds on weekends. It is comparatively less crowded early in the morning on weekdays. Let's head straight to Inokashira Park from the hotel by charter bus, then have some breakfast at a nearby café after you see the cherry blossoms.
■ Tips: If you head towards the park from Kichijoji station, you will encounter a very large crowd. The area near the Inokashira Park Station may not have as many cherry trees, but there are relatively fewer people so it is easier to see the cherry blossoms.
<Area information>
■ Inokashira Park Zoo: http://www.tokyo-zoo.net/zoo/ino/
This zoo houses more than 200 kinds of animals, including some unusual animals such as capybaras and fennecs. In addition to facilities that you can come in close contact with animals such as "Guinea Pig Petting Zoo" and "Squirrel Trail", there's a Mini Amusement Park with rides like the carousel and spinning teacups. You can also observe sculptures by a famous Japanese sculptor, Seibo Kitamura. It's a perfect location for families and couples to spend an enjoyable day.
Opening hours 9:30am-5:00pm
Closed: Mondays (If the Monday is a public holiday, substitute public holiday or a Tokyo day, the zoo will be closed on the following day) / New Year Period (December 29 to January 1 of the following year)
■ Ghibli Museum: http: //www.ghibli-museum.jp/
This museum exhibits the wonderful world of the world-famous Studio Ghibli animation. It is an extremely popular attraction where many tourists from all over Japan and the world come to visit. There are endless features to see in the museum, including the actual animation films, Ghibli original short animated feature you can only see at the museum, and a recreation of the studio workshops. Visitors can also purchase the museum's original merchandise at the gift shop. The admission must be purchased for a specific day and time, so please make sure you book your tickets in advance.
Opening hours 10:00am ~ 6:00pm
Closed: Every Tuesday
2. Showa Memorial Park (Tachikawa City) http://www.showakinen-koen.jp/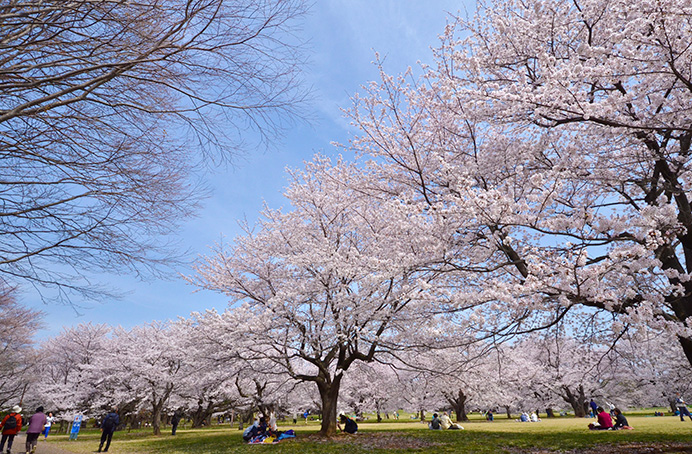 ■ Highlights: The sight of about 1,500 cherry trees in the vast park grounds of around 1.8 million square meters are quite spectacular. 31 different varieties of cherry trees are planted all around the park, so you can appreciate the different types of cherry blossoms as you move along the park. The trees will be illuminated at night for 4 days when the blossoms are in full bloom, and you can enjoy the cherry blossoms at night until 8pm. Why not appreciate the cherry blossoms while you also enjoy nice walks and leisure activities at the park. Even when cherry blossom are not in season, there are many great facilities like bicycle rental, children's play equipment and barbecue garden, so you can enjoy yourself whether you are with families or friends. If you use a car from Tokyo metropolitan area, it is only a 1 hour drive away.
■ Typical Blooming Season: Late March to early April
■ Closed: December 31, January 1, 4th Monday of February and the following day
Access: https: //goo.gl/maps/CDzs7WGgYGA2
■ Tips: The enormous grounds of Showa Memorial Park has 8 entrances. As many visitors will use trains, the "Nishi-Tachikawa Gate" and "Tachikawa Gate" close to the JR Chuo Line will be crowded, especially since both gates have large parking lot next to each of them. It might be easier to use "Sunagawa Gate" on the northern end of the park, as there will be slightly less people and also has a parking lot next to the gate.
<Area information>
■ Lakeside Restaurant: http: //www.showakinen-koen.jp/facility/facility_restaurant_lakeside/
http: //www.showakinen-koen.jp/facility/facility_restaurant_lakeside/
A lakeside restaurant that mainly serve Japanese food. You can select from the menu that includes traditional Teishoku set menu and Tendon (tempura rice bowl). Since the restaurant is adjacent to the boat station, why not stop by after having some fun on the boat?
■ Japanese Garden: http: //www.showakinen-koen.jp/facility/
You must visit the Japanese Garden while you're at Showa Memorial Park. There is a large pond in the center of the garden, around which the Japanese style buildings and structures are lined up. The garden has various seasonal plants you can enjoy in addition to the cherry blossoms.
3. Fujimori Park (Hachioji City)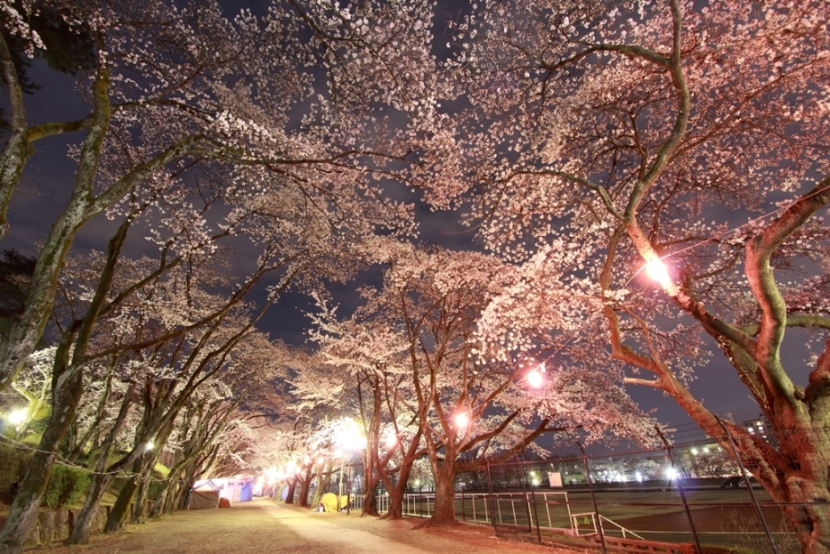 ■ Highlights: Fujimori Park became originally popular as an athletic park and there are sports facilities like athletic tracks. Approximately 280 cherry trees are planted here and many food stalls opens during the season, making it popular with hanami visitors. When the flowers are in full bloom, the trees will be lit up at night with lanterns from evening until 10pm, so you can enjoy cherry blossoms until late. You might want to visit to see the cherry blossoms here at night after a day of sightseeing in the city.
■ Typical Blooming Season: Late March to early April
Access: https: //goo.gl/maps/FG33CSfgSZk
■ Tips: If you come after 9pm when the stalls start closing, you can view the cherry blossoms at a more leisurely atmosphere than during day. There will also be lots of parking available at this time of night.
<Area information>
■ Around Hachioji: https://www.city.hachioji.tokyo.jp/kankobunka/innbaunndo001/p021890.html
Although still within Tokyo, Hachioji city is an area surrounded by nature. This area is popular among foreign tourists and has many famous sightseeing spots, such as Mount Takao that received three stars on the Michelin Travel Guide, and the historic site of Hachioji Castle Ruins.
Finding a place to have lunch or dinner will be easy, as there are restaurants and shopping areas in front of the station. Transfer will be a breeze if you are travelling by car, so why not take the route of Mount Takao to cherry blossom viewing, then on to dinner.
4. Cherry blossoms at the Daigaku Street (Kunitachi City)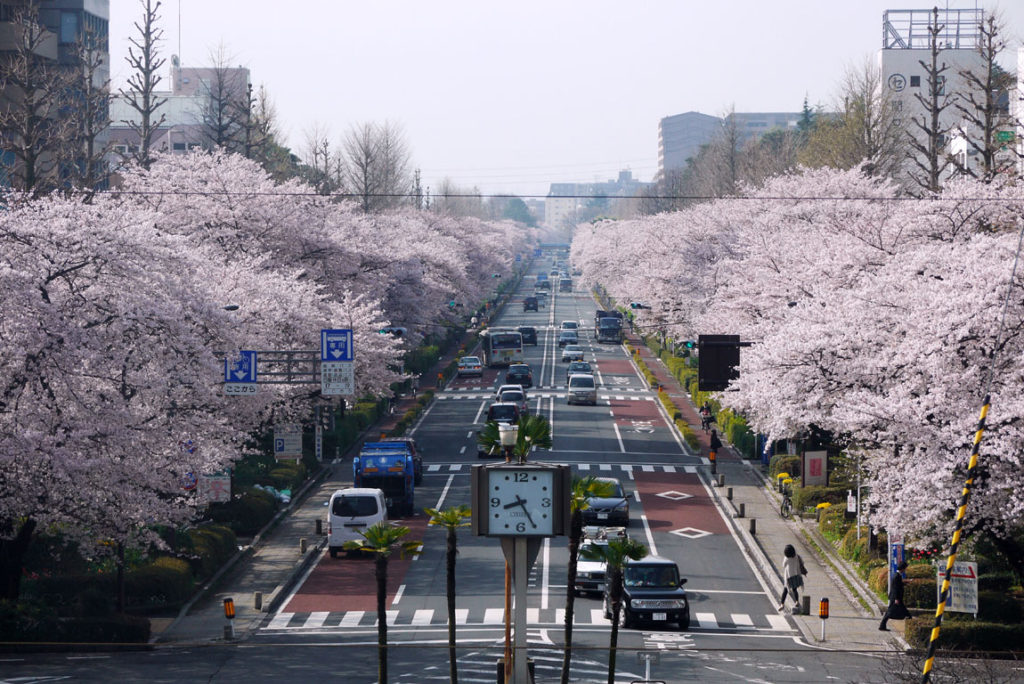 ■ Highlights: Kunitachi City is the educational district of Tokyo. Cherry trees were planted on both sides of "Daigaku (University) Street" that extends straight from the station, and when in full bloom you can walk alongside the beautiful rows of cherry blossoms. You can either walk alongside the trees or drive through the street by car to appreciate the magnificent view.
■ Typical Blooming Season: Late March to early April
Access: https: //goo.gl/maps/ujQreB7BS2T2
■ Tips: Although it is relatively easy to walk during weekday mornings, there will be large crowds on weekends and public holidays. It is a good idea to reserve a table at a restaurant along the street and enjoy lunch/dinner while watching the cherry blossoms.
<Area information>
■ Yabo Tenmangu Shrine: http: //www.yabotenmangu.or.jp/
It is known as the oldest Tenmangu Shrine (a shrine that gives blessings for traffic safety and academic studies) in eastern Japan. Surrounded by lush greenery, it has a majestic atmosphere and is very popular among locals.
5. Bunridai Park (Nishitokyo City)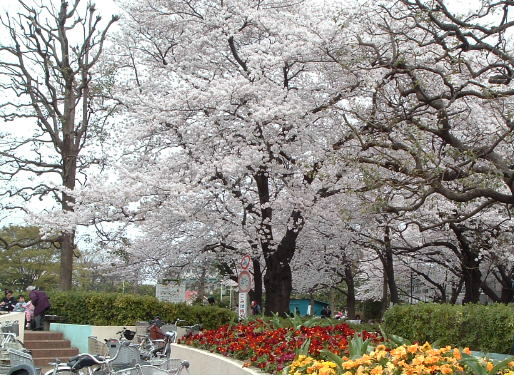 ■ Highlights: This park located on a large city road has a large plaza with many cherry trees including the Somei Yoshino variety. You will enjoy a stroll along the park, which has a decorative pond and plum trees, in addition to the cherry blossoms. As it is a spacious location, everyone including families and the elderly can relax and enjoy the cherry blossoms.
Access: https: //goo.gl/maps/mZbm9RBBLTC2
■ Typical Blooming Season: Late March to early April
■ How to avoid the crowds: Try weekday mornings.
<Area information>
■ Higashi Fushimi Inari Shrine: http: //www.higashifushimi-inari.jp/
This shrine with its landmark red torii gate, is said to give blessings for business prosperity and safety for the family. There will be many tourists and you may be able to see festivals and stalls depending on the season. Getting there by public transport is a bit tricky as you must mostly use buses, so we recommend you hire a car so you can stop by en route to seeing the cherry blossoms.
Avoid the crowds! West Tokyo's Secret Hanami Spot
1. Zenpukuji Park (Suginami Ward)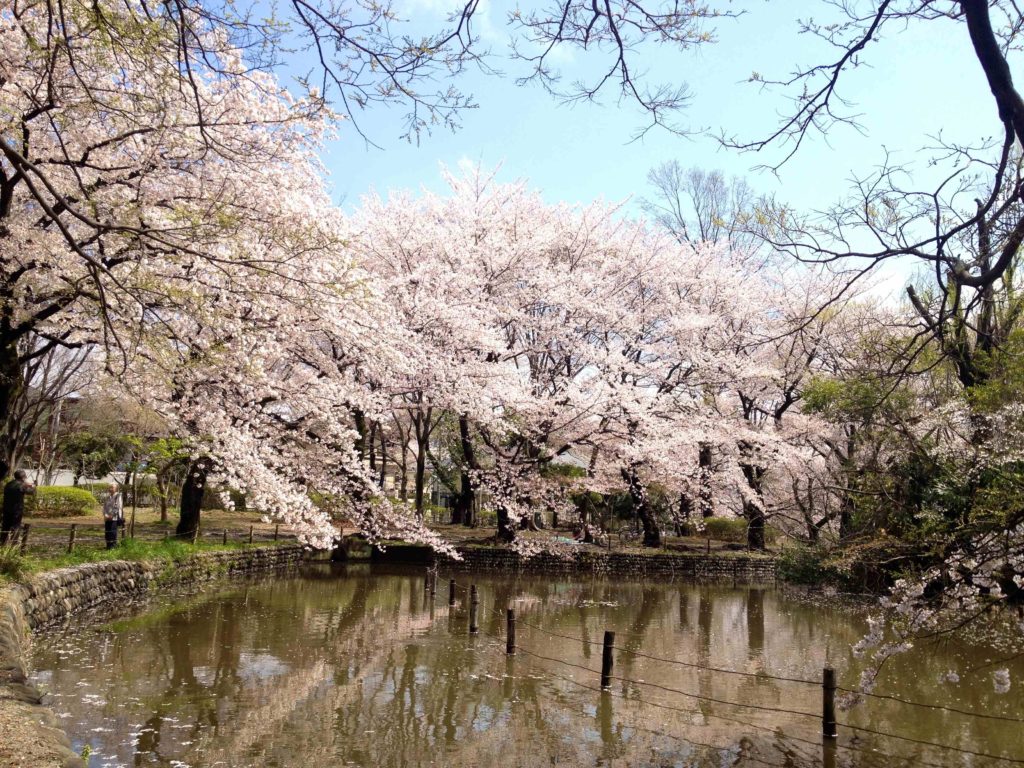 The cherry trees here are scattered around the large pond at the center of the park. The view of the cherry blossoms from the other side of the pond has a certain kind of elegance to it. Since the park has a boardwalk, this location is best suited to people who want to appreciate the cherry blossoms in a relaxed setting or want to go for a run around the park.
■ Why is it less crowded?
Since it is in a residential area, most of the visitors are locals. For sightseeing, it is more convenient to visit by charter vehicle. As there are few tourists, you can take some time to quietly appreciate the cherry blossoms.
■ Access: https://goo.gl/maps/aK7QaHiecBK2
2. Nogawa Area (Chofu City)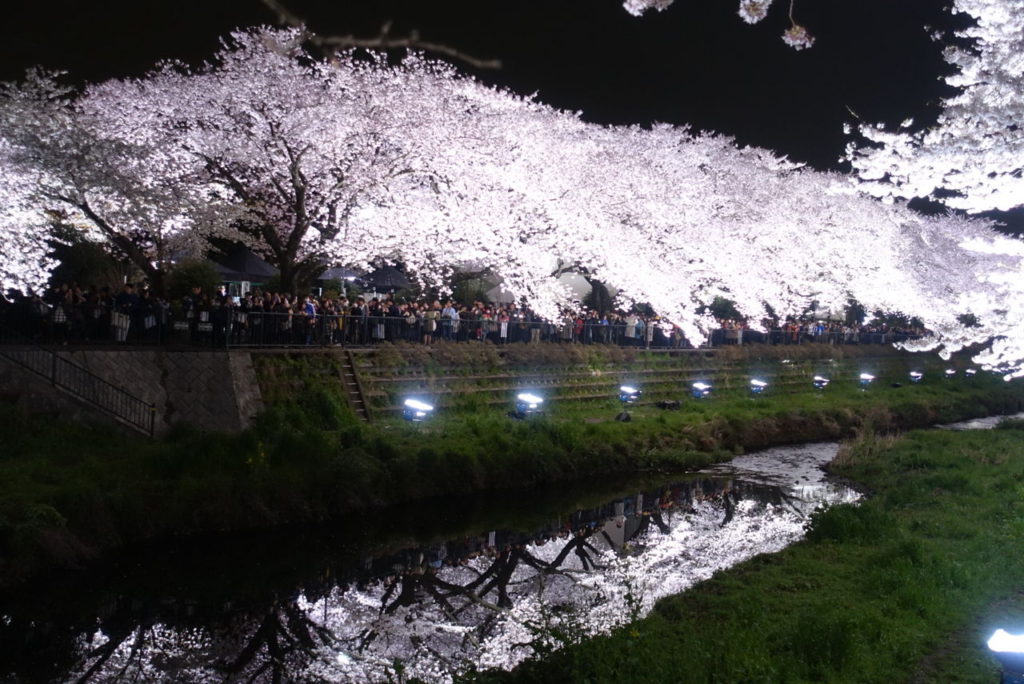 The weeping cherry blossoms along the No River and the contrast of the blossoms up against the green of the bank is magnificent. You feel like you have come to the countryside, even though you are still in Tokyo. If the weather is fine, you can play along the river banks.
■ Why is it less crowded?
There are relatively few tourists as it is difficult to get there by public transport. It would be easier to access via a charter vehicle. Nearby you will find the Jindaiji Temple, a popular sightseeing spot.
■ Access: https: //goo.gl/maps/cJ6wktVREE92
Tips and tricks to avoid the crowds
■ Take a view from the car
Roads in the Nishitokyo area is relatively wider than metropolitan area of Tokyo and you are less likely to get stuck in traffic. Even if it is not a famous cherry blossom spot, you can find many cherry trees along main roads and riverbanks. You will be able to enjoy the views of the occasional cherry blossom if you go on a drive along this area.
■ Visit the front gate of a University or High School
It is often that cherry trees are planted near the main gate of a school such as a university or high school. Although you cannot enter the school grounds without permission, you allowed to view the beautiful blossoms from outside of the gate. Since these are not famous hanami locations, there are no crowds to worry about and you will be able to take your time observing the flowers.