Although you might imagine Tokyo as a metropolis, there are many places famous for its cherry blossoms in the city. You can marvel at sceneries unique to Tokyo like the cherry blossoms in full bloom in amongst concrete jungle of tall office buildings. Although many of the locations popular with Japanese people during this time of the year are often very crowded, but it is well worth a visit!
We highly recommend the use of a charter vehicle, as you can be dropped off near the cherry blossom viewing (hanami) spot to avoid the crowds. For those who would like to spend some more time appreciating the blossoms, we will introduce comparatively less crowded locations around Tokyo and let you in on the secrets to avoid the crowds! Please enjoy the beautiful Japanese cherry blossoms at various locations in Tokyo.
Popular cherry-blossom viewing (Hanami) Spot Ranking – Tokyo (East Area)
1. Ueno Park (Taito Ward)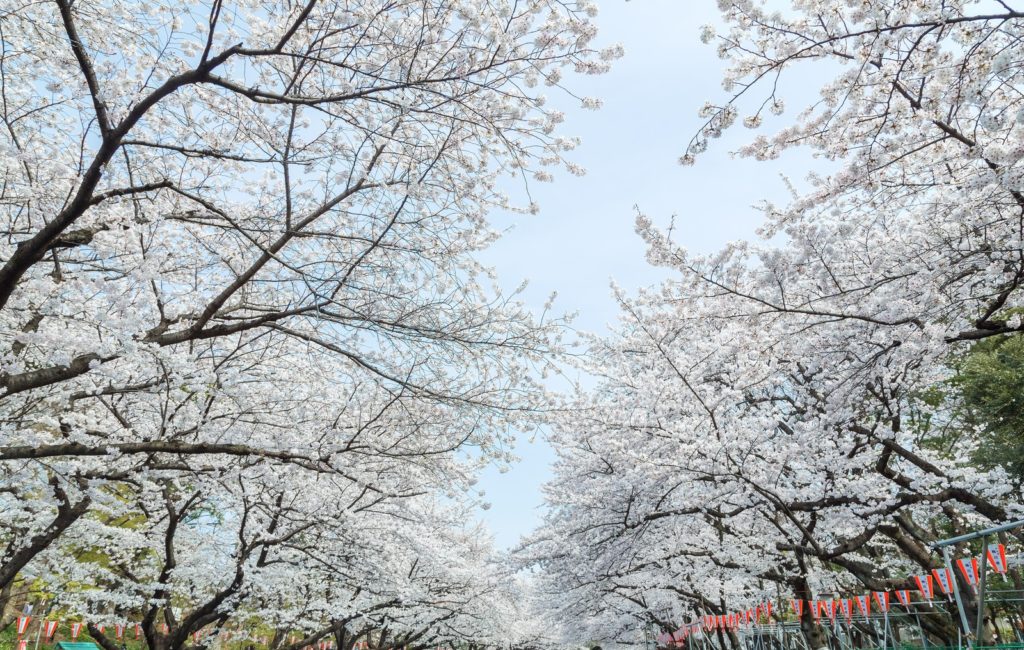 ■ Highlights: Ueno Park, boasting an amazing 1,200 cherry trees, has been famous as a great place to view the cherry blossoms since the Edo Period. The cherry blossoms trees surrounding the large Shinobazu Pond in the park are a sight to behold. After 5:30pm, the lights will be turned on and you can enjoy the beauty of cherry blossoms at night in contrast to what it looks like during the day.
■ Typical Blooming Season: Late March to early April
■ Access:
■ How to avoid the crowds: During cherry blossom season, there will be large crowds day and night, especially on weekends. There will be relatively fewer people early in the morning on weekdays (after 5am), so we suggest taking a charter vehicle from the hotel.
■ Tips: There will be relatively fewer people around if you go from Uguisudani Station area (one station away from Ueno) through to Yanaka Cemetery and Kan'eiji. You can also get a good view of the row of cherry blossoms in front of Yanaka Cemetery from the car.
<Area information>
■ Ueno Zoo http://www.tokyo-zoo.net/zoo/ueno/
The most historic zoo in Japan. In addition to rare animals such as the Sumatran Tiger and Western Lowland Gorilla, the zoo is also famous for its giant pandas. Since the zoo is located within Ueno Park, let's stop over for a visit while you're here to see the cherry-blossoms. Opening hours 9:30am ~ 5:00pm, closed on Mondays.
■ Usagiya (Japanese sweets, Dorayaki) http://www.ueno-usagiya.jp/
A store famous for its Dorayaki, one of the most popular traditional Japanese sweets in Japan. The secret to its popularity is the fluffy pancake-like skin filled with plenty of bean paste. Aside from Dorayaki, their cute Usagi Manju (rabbit buns), Monaka (red bean sandwiched between thin wafer casing), Yokan (red bean jelly), and other Japanese style sweets are also popular. Why not take a break at the nearby "Usagiya CAFE" where they serve some of their famous sweets and more.
2. Chidoriga-fuchi Moat (Chiyoda Ward)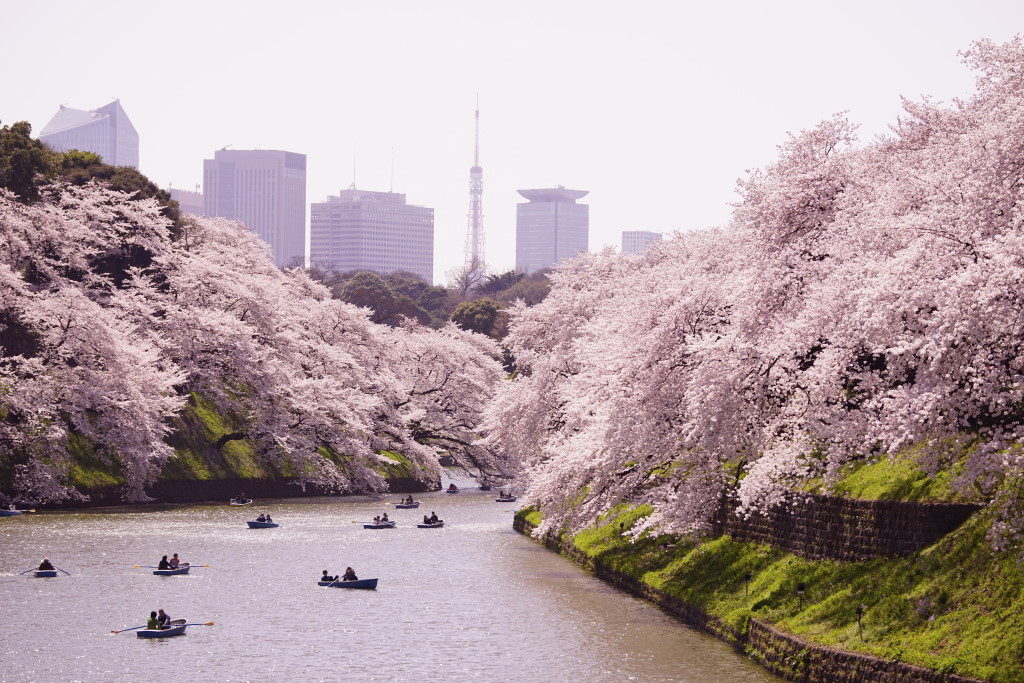 ■ Highlights: The beauty of the cherry blossom trees surrounding the moat of the Imperial Palace makes us forget the hustle and bustle of the city. During the day, you can take a boat to appreciate the cherry blossoms hanging over the lake up close. Since the blossoms will be illuminated after 6:30pm, why not end your day of sightseeing in Tokyo by making a last stop here to view the cherry blossoms at night. During cherry blossom season, "Sakura Festival" will be held in the vicinity where you can enjoy fairs and stalls.
■ Typical Blooming Season: Late March to early April
■ Access:
■ Tips: If you're renting a boat, try getting there around 9:00am when the boat station opens, so you don't have to queue for too long. There are also relatively less people between lunch time around 12pm to 1pm.
<Area Information>
■ Nanko Rest House Store: http://fng.or.jp/koukyo/service/nanko-rest-shop-menu.html
This is a relatively unknown souvenir store in front of the Nijubashi Bridge in the Imperial Palace. You can purchase food (mainly Japanese sweets), sake and other souvenirs. It's a good idea to make a stopover during your visit.
■ Imperial Garden
If you're on a tour of Tokyo, visit to the Imperial Garden is a must. Since the Imperial Palace was built on the site of old Edo Castle, you can also view the historic remains of the Edo period such as Chidoriga-fuchi Moat, Sakuradamon and Hanzomon Gates, and Nijubashi Bridge.
3. Hibiya Park (Chuo Ward)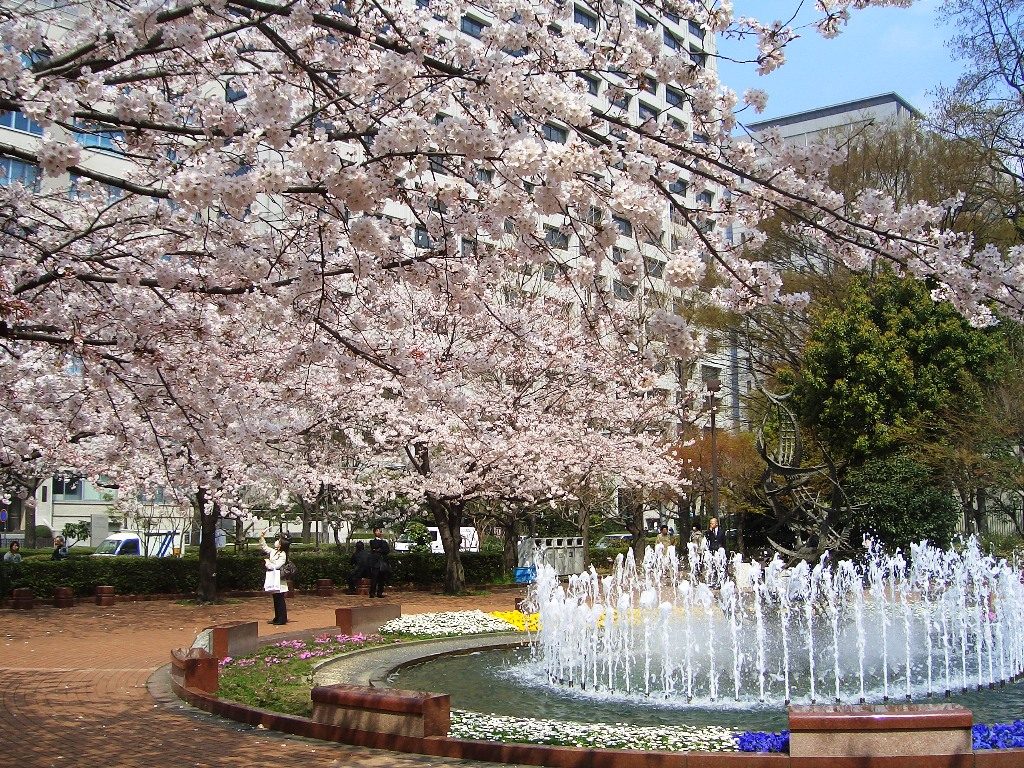 ■ Highlights: Hibiya Park, close to Tokyo Station and Ginza, is a location where you can enjoy the beauty of cherry blossoms while still being in the middle of the city. Although the total number of cherry trees is smaller, Hibiya Park has character that sets it apart from other famous locations. The park is also known as an urban oasis where business people who work nearby frequently visit during their breaks. You can also easily drop by while you are shopping.
■ Typical Blooming Season: Late March to early April
■ Access:
■ Tips: Although it's comparatively easy to walk along here during weekdays as it's a business district, there will be crowds during cherry blossom season. To ensure a leisurely visit, it is recommended that you come in the morning on weekdays and then go shopping and sightseeing afterwards. It will be only minutes away by car if you stay at a hotel near Tokyo Station, so it is a good idea to visit before you head out for the day or before/after breakfast.
<Area information>
■ Hibiya Matsumotoro http://www.matsumotoro.co.jp/
A western style restaurant with rich history located within the park. You can enjoy western inspired dishes unique to Japan such as Japanese curry and Omurice (omelette rice) in a retro atmosphere. Since the price is reasonable, there are many people who travel far and wide to dine at this restaurant.
4. Shinjuku Gyoen (Shinjuku Ward)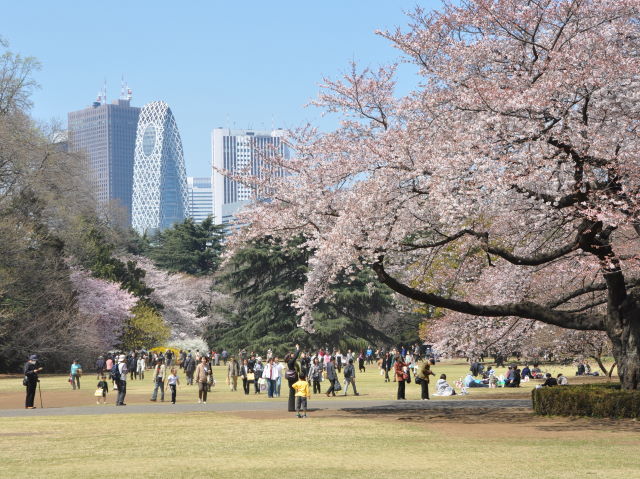 ■ Highlights: Shinjuku Gyoen, boasting a total area of 58.3 hectares, is located in downtown Shinjuku, the number one entertaining district in Japan. It is a popular spot where people from all over the country visit during the cherry blossom season and many cherry trees have been planted along its walkways. It is relatively easy to stroll through the garden despite the crowds, as the park is so large and there's a lawn square in the center. Originally built as a royal garden, there are many historical buildings within the park grounds so you can also enjoy a scenic tour of the garden. Why not stop by for a visit before or after some shopping in the Shinjuku area. The opening hours are from 9am to 4pm. Closed on Mondays.
■ Typical Blooming Season: Late March to early April
■ Access:
■ Tips: Visit around 9am on weekdays, just after the park opens. Expect crowds during weekends and public holidays.
<Area information>
■ Shinjuku Hand Crafted Soba Tominokura https://www.tominokura.jp/
You can try an authentic buckwheat noodle made with buckwheat flour that has been ground on location in the restaurant. Besides sashimi and tempura, they have a huge range of sake that you can choose from. As their pricing is reasonable, you can enjoy Japanese food without being fearful of the total bill. Prior reservation is recommended as it's a popular restaurant. Perfect for lunch and dinner.
5. Meguro River (Meguro Ward)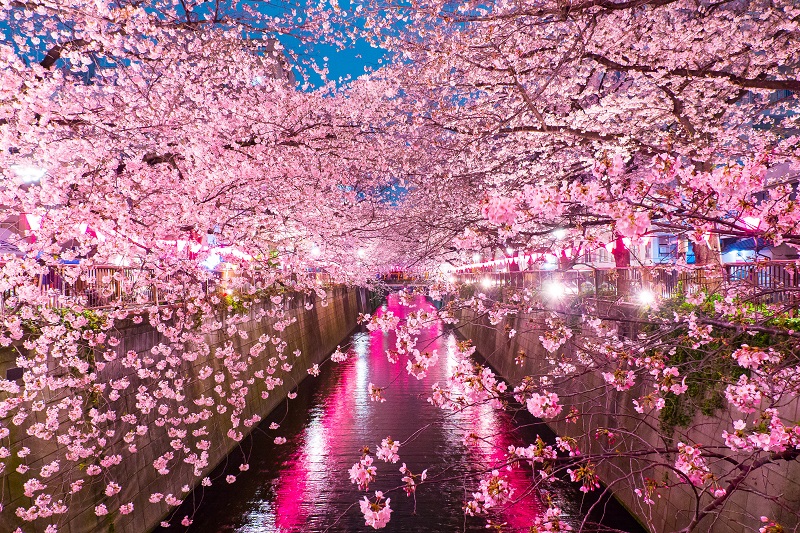 ■ Highlights: The 4km rows of cherry blossom trees lined up alongside the river are truly spectacular. Every year, this area is crowded with people day and night during the cherry blossom season, as the cherry blossoms will be illuminated after 5pm. Since there are many stylish shops and eateries in the area, why not stop over before or after shopping or eating. If you're coming to have lunch or dinner, make sure you book a table in advance.
■ Access:
■ Typical Blooming Season: Late March to early April
■ How to avoid the crowds: Try weekday mornings.
<Area information>
■ Yutenji http://www.yutenji.or.jp/
The Yutenji Shrine belonging to Jodo-shu sect is located about 10 minutes by car from Nakameguro. There are less cherry trees here than other locations, but the contrast of the magnificent cherry trees against the main gate and bell tower of the shrine is stunning. Since it is relatively less crowded location, it is recommended for those who want to take some time to appreciate the blossoms.
Avoid the crowds! East Tokyo's Secret Hanami Spot
1. Yotsuya – Along the moat of Ichigaya (Shinjuku Ward ~ Chiyoda Ward)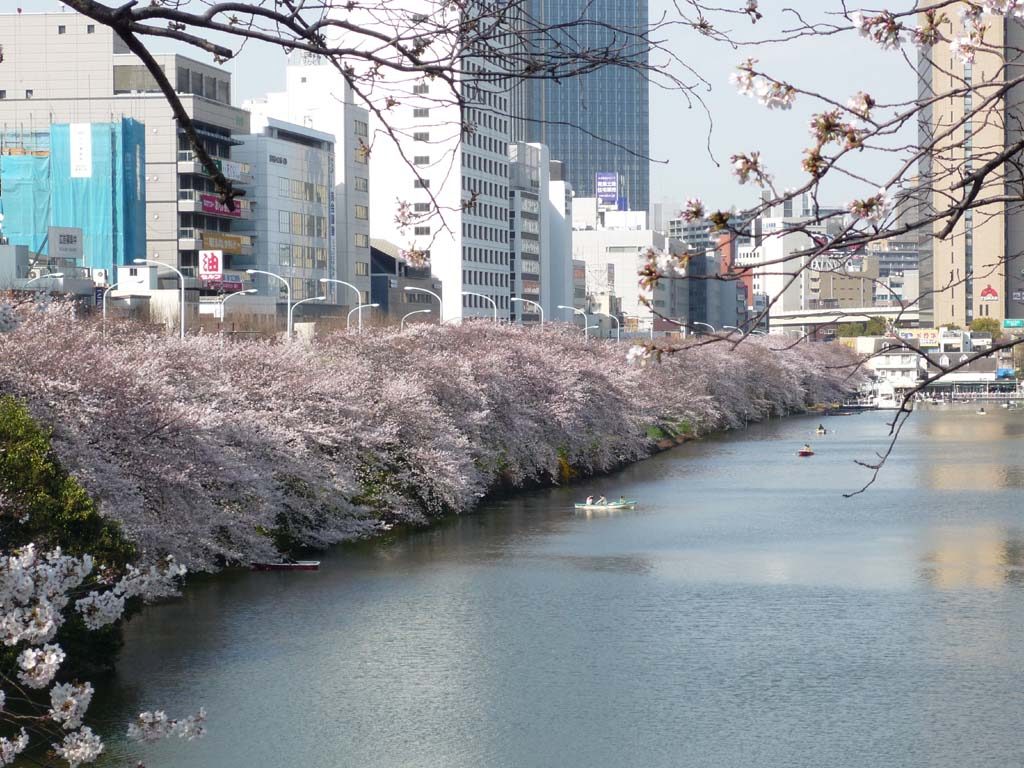 All along the pedestrian path that leads from JR Yotsuya station to Ichigaya station, there's a row of cherry trees that you can appreciate while you walk along the path. Although it's only a short section, people who work nearby visit this area for a refreshing break.
■ Why is it less crowded?
It is located in a business district and there are no tourist attractions or busy streets nearby, so only a small number of people will come here just to see the cherry blossoms. Since it is not well known, there are relatively few people around so you can take your time to view the cherry blossoms.
■ Access:
2. Tetsugakudo Park (Nakano Ward) http://tetsugakudo.jp/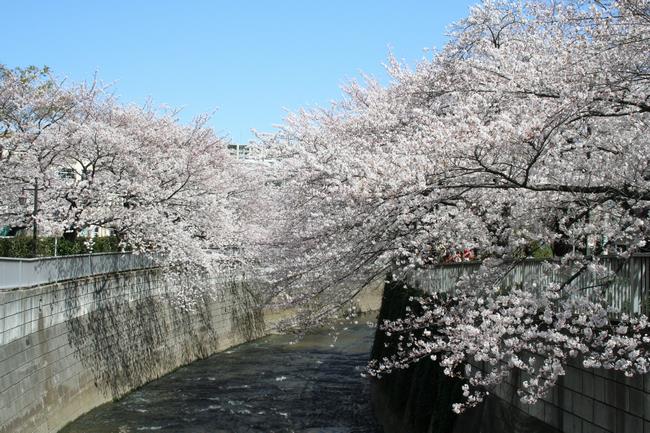 A park with a calm atmosphere located in a residential area. There are about 100 cherry trees planted here, and is well known among locals as a good cherry blossom spot. There are food stalls available on Sundays from the end of March and until the first week of April each year (depends on the year).
■ Why is it less crowded?
There are no sightseeing spots nearby and access by public transportation is inconvenient, so there are relatively few tourists and hanami visitors. If you hire a charter bus or van, getting there will be a breeze.
■ Access (Embed Code):
3. Sumida Park (Taito Ward)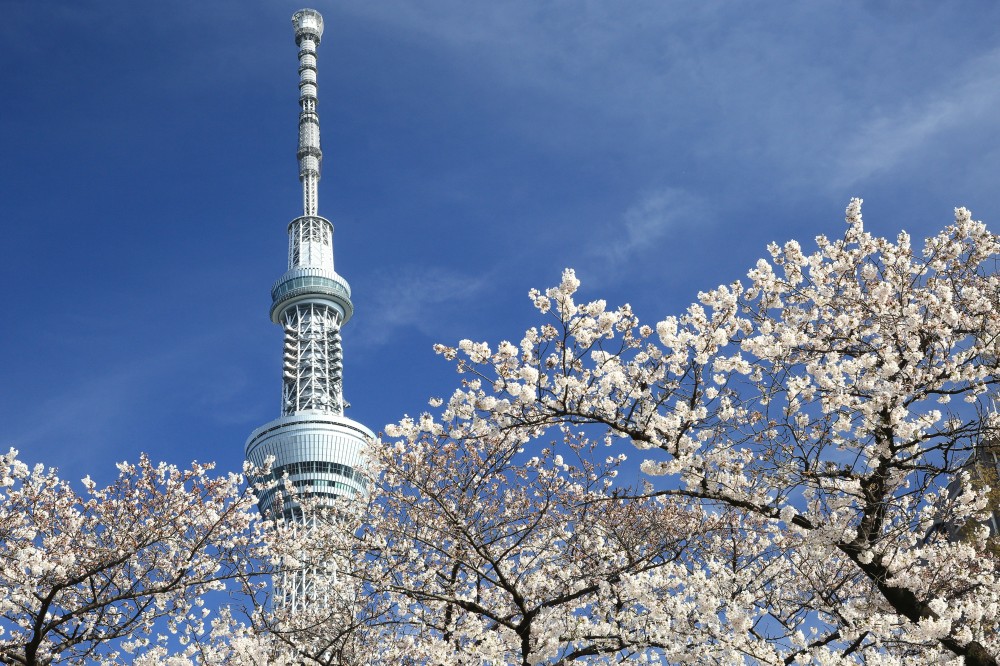 Although Sumida Park is a major hanami spot, there are relatively fewer people here than neighboring Asakusa and Sky Tree area. There is a pedestrian path along Sumida River between Ryogoku Station and Asakusa Station, so you will be able to enjoy a nice scenic walk. Why not ask your charter car driver to drop you off at Ryogoku, then get picked up at Sumida Park and head to Asakusa for sightseeing.
■ Why is it less crowded?
Since nearby Ueno Park and Sumida River district attracts most of the hanami visitors, there are comparatively less people around making it easier for you to have a relaxing walk.
■ Access:
Tips and tricks to avoid the crowds
■ Take a view from the car
In Japan, you can find cherry blossoms alongside shopping streets and public roads, not just famous cherry blossom viewing locations with lots of cherry trees. Like the drive along Sotobori Dori from Yotsuya to Tokyo station, there are many places where you can enjoy view of the cherry blossoms within Tokyo. It's a good idea to ask your driver to use roads where you can see lots of cherry blossoms.
■ Charter a Yakatabune boat
For those who don't want to get caught up in hanami crowds, you can avoid all of that by viewing cherry blossoms from a boat. Departing from the Tokyo Bay Area, the "Yakatabune" cruise along the Sumida River can be reserved for private hire. In addition to the cherry blossoms along the river, you can also see various sightseeing spots such as the Tokyo Sky Tree from afar. Since it operates even after dark, you can also hold a hanami party for families, groups and couples. However, since the boats quickly become fully booked during the cherry blossom season, we recommend booking months in advance.