There are many things that symbolize Japan like sushi, cherry blossoms, kimonos, ninjas and so on, but to feel the traditional Japanese culture and enthusiasm that is instilled in Japanese people, you should experience "Matsuri (festival)" in person. These festivals are different depending on the area and each have variety of events on their schedule. Crowds are unavoidable, but that become part of the amazing memories of the event. It the festival is held in an urban area, you can experience it as part of your sightseeing tour of the area!
1. Sanja Matsuri (Tokyo)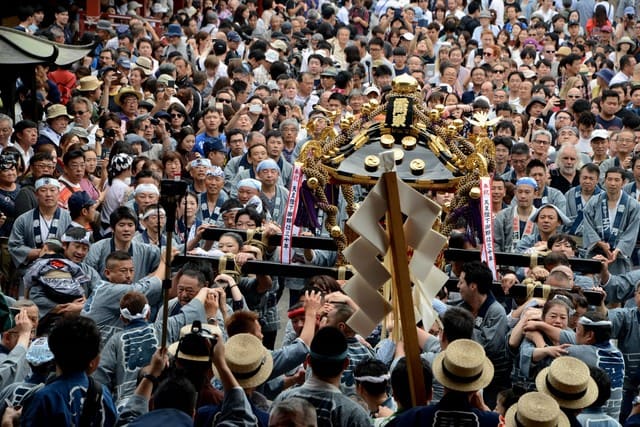 This is a festival held at Asakusa Shrine in Tokyo, which is famous both as Tokyo's oldest shrine and a tourist destination. It is one of the most historic and the most spectacular festivals in Japan. It is crowded with many tourists every year as an early summer tradition in Tokyo.
■ Festival Period: Three days in May every year
■ Highlights: The definite highlight is on the last day of the festival, where three mikoshi floats get carried out from the shrine grounds accompanied by some chanting at 6am. It is believed that as the mikoshi floats get shaken vigorously, it raises the spirit of God and will bring good harvest and prevent any plagues from breaking out.
There is an exciting atmosphere with performances by geishas and drum bands, variety of food and other stalls, and lots of people dressed in happi jackets and twisted headbands.
■ Location:
The Sanja festival runs for three days and the schedule will vary depending on the date. As the route taken by the mikoshi also varies from year to year, you should look it up in advance. https://www.asakusajinja.jp/sanjamatsuri/schedule/
Also, there will be traffic restrictions during the festival period, so it would be better for you to arrange a transfer with a charter vehicle.
2. Gion Festival (Kyoto)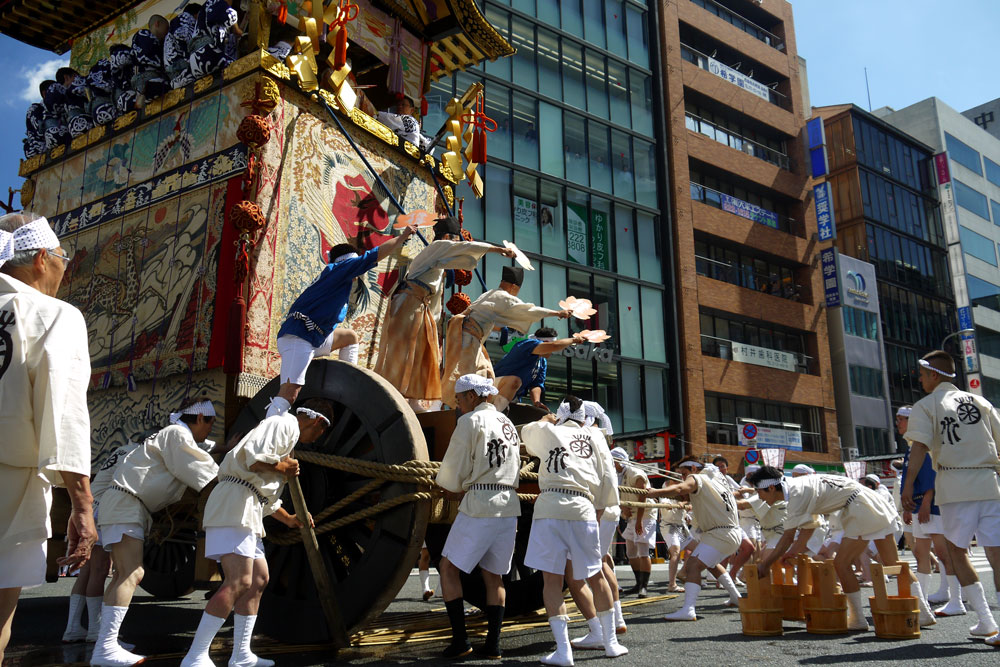 Gion Festival is one of the top three matsuri festivals in Japan. This festival at Yasaka Shrine in Kyoto dates back to about 1100 years ago. This grand festival is a summer tradition in Kyoto, which begins with Yoiyama on the night before the festival. Many food stalls will open, and massive crowds are inevitable, but that is also the charm of the festival. It will be great to enjoy the festival together with some sightseeing around Kyoto.
■ Festival Period: For 1 month from July 1 each year
■ Highlights: In the Yamaboko Junko parade held on 17th and 24th of July is an amazing sight where a procession of 24-meter-high luxurious floats with wheels parade around the city. This parade is also registered as UNESCO Intangible Cultural Heritage.
The pre-festival celebration called Yoiyama is held for 3 days between 14th and 16th of July. In the evenings, lanterns light up the city and music troupe playing distinct sounding Gion Bayashi parade around the city.
The Byobu Matsuri (folding screen festival) will also be held during this period, where traditional crafts and important cultural properties owned by individuals will be open to the public.
■Location:
The festival will be held at Yasaka Shrine and the surrounding Gion area. There will be traffic restrictions in place during the festival and it will be very crowded, so make sure you do some research prior to the visit and plan your route accordingly. If you want to see the Yamaboko Junko parade up close, you must secure a good vantage point. There is a ticketed seat at a fee, so you may want to purchase your seat in advance.
3. Tenjin Festival (Osaka)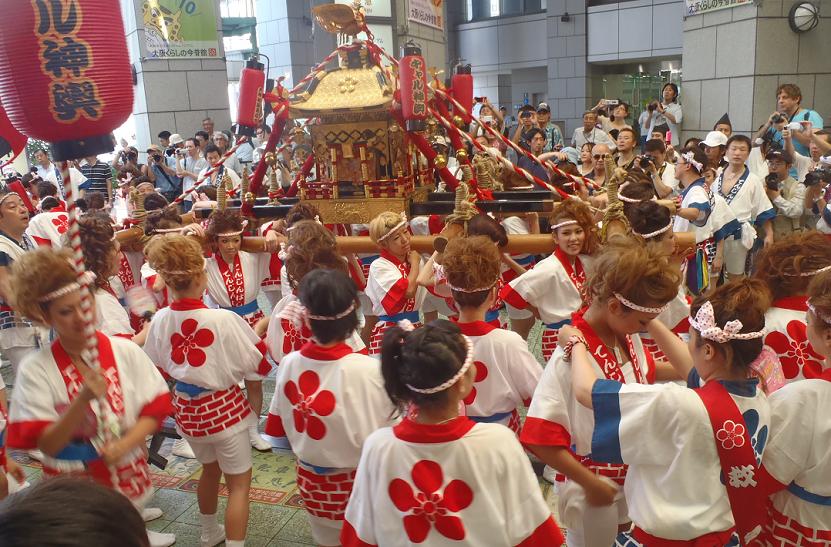 Tenjin Festival is another of the top three matsuri festivals in Japan. It is held at Osaka Tenmangu Shrine in early summer of each year, from late June to 25th of July. It is a traditional festival with a long history and has been held for more than 1000 years since the year 951. The climax of the festival is on the 24th and 25th of July, where about 5000 fireworks are launched in the evenings. It is a great celebration with about 100 boat vessels floating at the venue on Okawa River.
■ Festival Period: Around mid-July every year (to be confirmed), Fireworks: To be launched around 7:30pm ~ 9: 00pm each year (to be confirmed)
■ Highlights: In the pre-festival celebration Yoimiya on the 24th, Hokonagashi Shinji ritual that is regarded as the roots of the Tenjin Festival is performed in addition to Shishimai (lion dance) and Taiko drum performances. In the Hokonagashi Shinji ritual, three priests go out to Okawa River in a small boat and perform a prayer ritual of safety. In the main date on the 25th, a festival to pray for prosperity called Rikutogyo and Funatogyo will be held. This is the greatest attraction of the festival, with a procession of about 3000 people travel in a line. It is exciting just to see the procession of people dressed in various costumes, where drums, mountain cars, mikoshi floats, kago transport and ladies-in-waiting line the streets.
■ Location:
The festival is held in the area between the Okawa River and Osaka Tenmangu Shrine. It will be useful to research the locations of where the various rituals will be held in advance. If you want to check out the festival in a more relaxed manner, why not look into various Tenjin Festival Plans sold by some hotels and Funatogyo boat ride ticket so you can watch the fireworks from one of the boat ships.
4. Kanda Matsuri (Tokyo)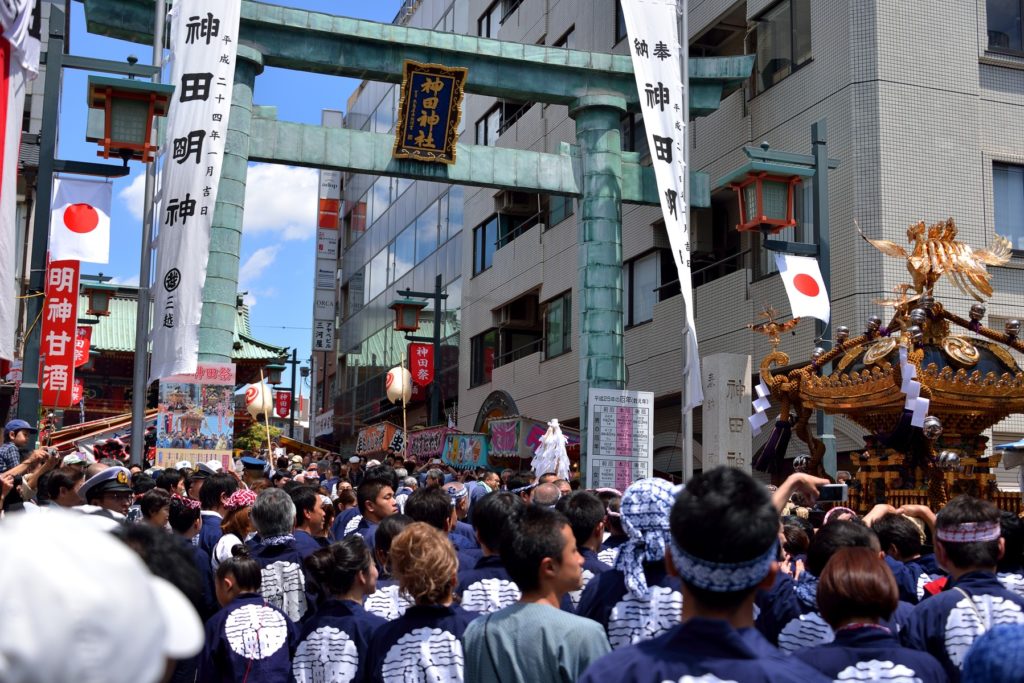 Kanda Festival, famous as one of the top three festivals in Japan, is a traditional event that dates back to the Edo period. It will take place at Kanda Shrine and the surrounding Nihonbashi and Kanda area, where Japanese retro atmosphere still remains. It is held every second year, and you can see a massive procession with thousands of people, along with various mikoshi floats and other festival floats.
■ Festival Period: Mid-May in odd-numbered years (to be confirmed)
* For even-numbered years, a small-scale festival will be held.
■ Highlights: In addition to the luxurious procession centering on mikoshi and costumes, other festival floats shaped like a huge ogre head and catfish are also memorable. The highlight of the festival is where 200 big and small mikoshi floats enter the Kanda Shrine. You can feel everyone's enthusiasm when the shrine precincts are packed full of people.
■ Venue: http://www.kanko-chiyoda.jp/tabid/2842/Default.aspx#map
During the festival period, you can also enjoy Akihabara's shopping mall bustling with mikoshi floats and its carriers. There will be traffic restrictions in place, so it will be best to arrange transfer via charter vehicle so you can enjoy a day of sightseeing in Tokyo.
5. Neputa Festival (Aomori)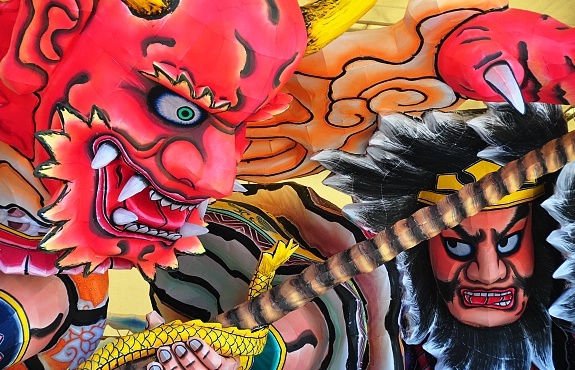 Neputa Festival held at Hirosaki in Aomori Prefecture is a traditional festival that dates back to the Edo period and has been designated as an important intangible folk cultural property of Japan. During the festival, large lanterns with samurai artworks are pulled around the city, which is said to ward off bad plagues.
The Neputa Festival is also popular among foreign tourists and is crowded with many visitors every year.
■ Festival Period: August 1-7 every year
■ Highlights: Neputa procession follows the main street from Hirosaki Station to Hirosaki Castle. It starts with smaller sized lanterns at the beginning, then gradually increasing in size with the biggest lanterns appearing at the end. Following each of the neputa is a flute and drum accompaniments with chanting in between. With the largest neputa at a size of 9 meters, you will be enchanted by the scenery of fantastic lanterns lighting up the city's nightscape.
■ Venue:
Since the parade route varies from day to day, you should check before you visit. The neputa usually takes one of three different routes, either the main street of Dotemachi route, Station Area route or Dotemachi Nanuka route. You will get a better look if you purchase a ticketed seat that goes on sale from July 1st, so be on the lookout for those tickets.