There are lots of locations famous for cherry blossoms in areas outside of central Osaka. In the city, you can enjoy cherry blossoms between meals and shopping, but if are willing to venture out of the urban area you can enjoy the cherry blossoms in natural environment. If you are an active person who likes hiking and walking, why don't you hire a charter vehicle and go for a drive?
Popular Hanami Spot Ranking – Osaka Suburban Area
1. Settsukyo (Takatsuki City)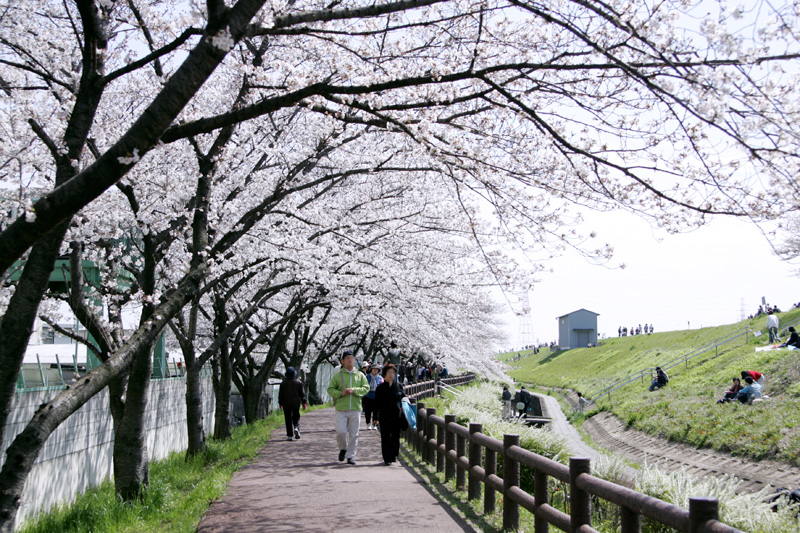 ■ Highlights: Settsukyo is a valley continuing upstream of Akutagawa River that flows through Takatsuki city and is known as a scenic spot with a rich nature. Many visitors come to enjoy leisure activities such as hiking, camping and mountain stream fishing. The surrounding area is maintained as Settsukyo Park, and there is a "Sakura Square" with about 800 cherry trees on the southern side. The area will be busy with many visitors during the cherry blossom season, but the scenery of cherry blossoms blooming in amongst beautiful nature is a stunning sight.
■ Typical Blooming Season: late March to early April
Access:https://goo.gl/maps/XbWvXFAG17o
<Area information>
■ Imashirotsuka Ancient History Museum:
At this museum, you can observe ancient tombs, haniwa sculptures and magatama beads made during ancient Japan. You will find the Imashirotsuka Tomb close by, so you may want to explore the surrounding area. It will also be enjoyable for families and elderly people. As admission is free, why don't you stop by here to take a break in between sightseeing.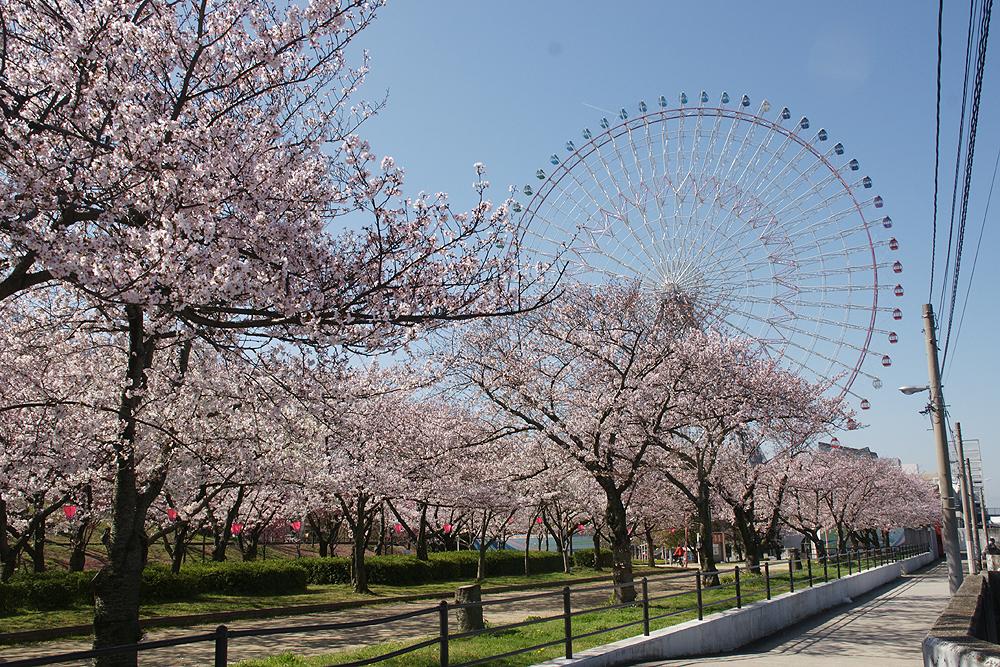 ■ Highlights: Tempozan is famous as Japan's lowest mountain. The cherry blossom spot is located in the park at the foot of the mountain, near Tempozan Harbor Village. Cherry blossoms are planted on both sides of the boardwalk, and you can see the cherry blossom trees against the backdrop of Tempozan ferris wheel. Since there are relatively few people around and plenty parking available in the surrounding area, let's spend some time getting to know Tempozan.
■ Typical Blooming Season: late March to early April
Access:https://goo.gl/maps/oDbWwP2YoHU2
<Area information>
■ Osaka Aquarium Kaiyukan: https://www.kaiyukan.com/
This aquarium is located by the seaside near Tempozan, and you can meet sea creatures such as whale sharks, penguins, jellyfish and seals. It is popular with tourists as you will feel like you are swimming in the sea with the sea creatures in attractions like "Aqua Gate", where fish swim in a tunnel-type aquarium. English, Korean, Chinese language support available.
Opening hours: 10:00am-8:00pm
Closed: Undefined holiday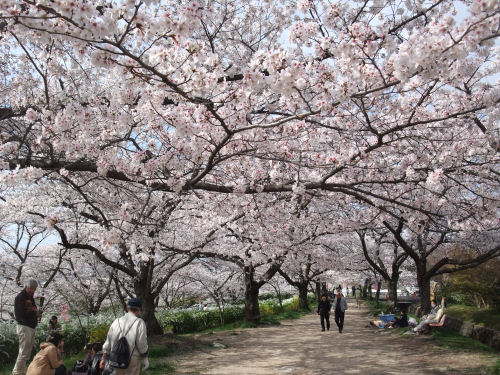 It is a shrine derived from Kobo Daishi and increasingly becoming popular as spiritual attraction. The tunnel of cherry blossom trees continuing all the way from the temple premises up to the foot of the mountain is spectacular. The cherry blossoms existing in a natural setting is beautiful in a different way from cherry blossoms you can find in urban areas. Since the area is inconvenient without a car, it is comparatively less crowded than other hanami spots.
■ Typical Blooming Season: late March to early April
Access:https://goo.gl/maps/AnRExPi5yV82
<Area Information>
■ Prefectural Forest Hoshida Garden:
http://osaka-midori.jp/mori/hoshida/
It is a leisure spot full of nature where many come to enjoy hiking. The most popular attraction is the suspension bridge called "star swing". From the bridge you can see the magnificent view of the mountains. Bouldering facilities are also available, so we recommend it to couples and families who want to enjoy leisure activities. For those who wish to explore efficiently, it is recommended to take a car up to the middle of the hiking course.
Opening hours: 9:00am-5:00pm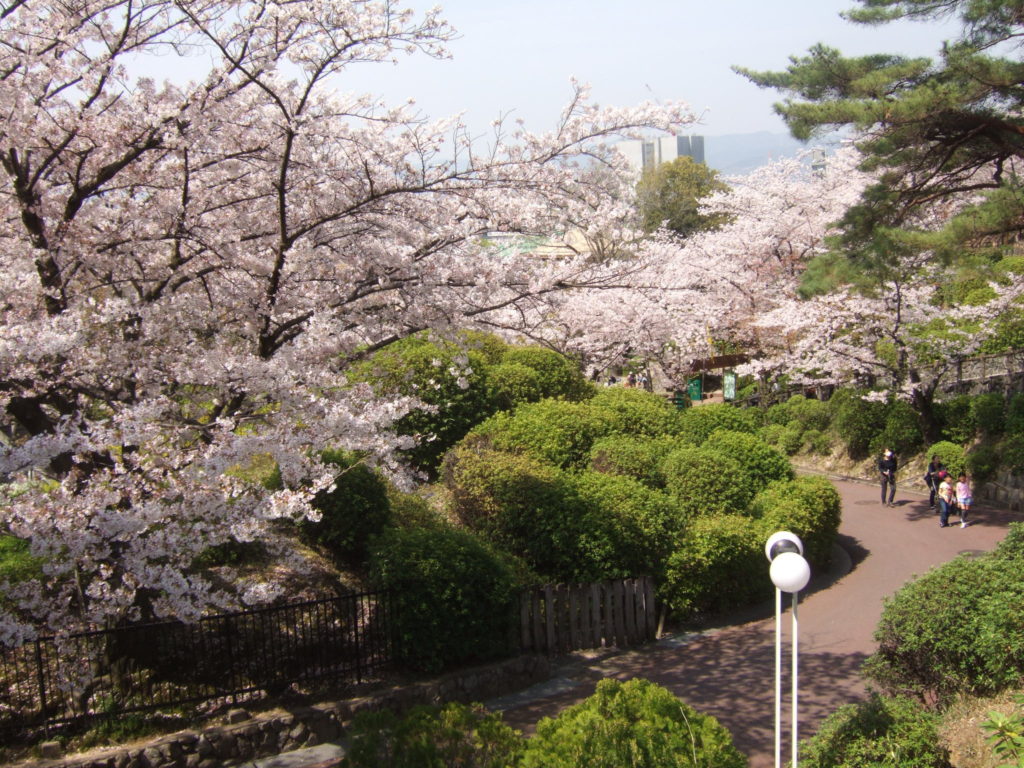 ■ Highlights: This is an amusement park with about 40 attractions including roller coasters and ferris wheel. There are about 300 cherry trees on the park premises (mainly Somei Yoshino variety), and you can view the cherry blossoms from the rides. There are attractions you can enjoy even on a rainy day, so you should be able to enjoy hanami (cherry blossom viewing) even if it is raining. If you visit with your families or friends, you can experience both cherry-blossom viewing and the rides.
Opening hours: 10:00am-5:00pm
Closed: Monday (Subject to change depending on season, please check in advance)
■ Typical Blooming Season: late March to early April
Access:https://goo.gl/maps/US5pEsyaaLT2
<Area Information>
■ Hirakata T-SITE :http://real.tsite.jp/hirakata/
A commercial facility run by Japanese large-scale bookstore company, "Tsutaya Bookstore". A wide selection of books is displayed in a glass building. As visitors can read the books freely, it is popular among locals. There are also restaurants and gift shops, so why not drop by for a rest stop?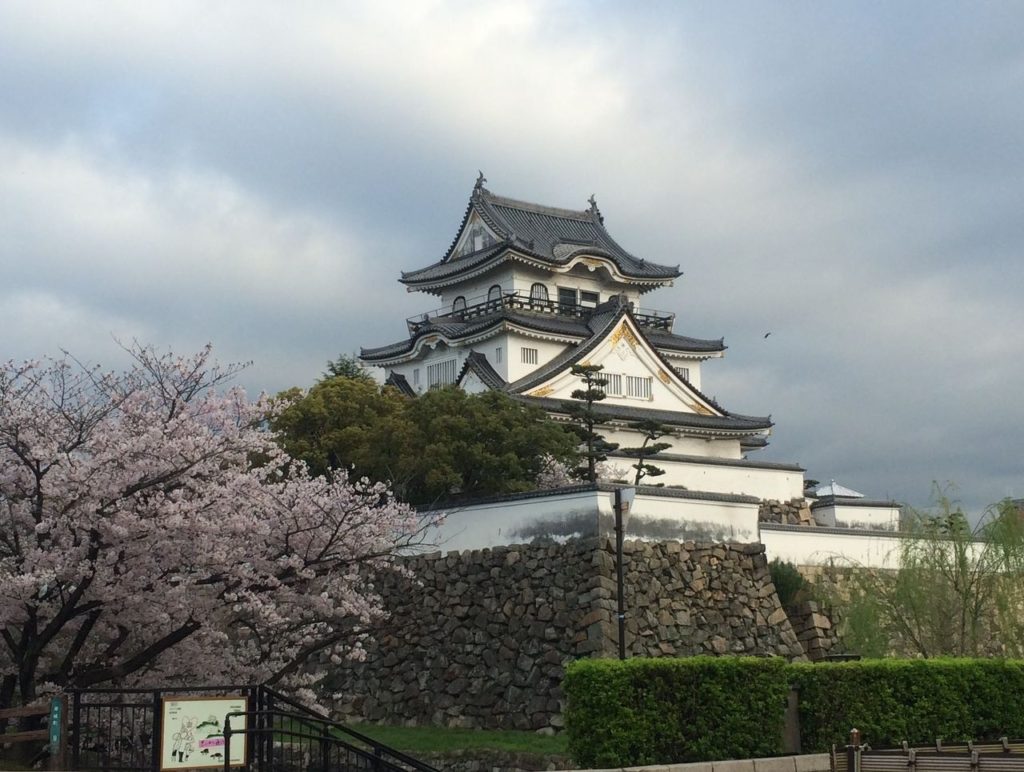 This is a Japanese-style castle that towers up Kishiwada, a city that has a downtown Osaka atmosphere. Approximately 170 cherry blossoms color the castle grounds, which has been designated as Osaka Prefecture historic site. During the cherry blossom season, you can enter the premises until 8pm and you can enjoy the fantastic scenery of the cherry blossoms and the castle illuminated at night. Although this is a small castle, food stalls open during cherry blossom season and is usually very busy with hanami visitors. You will be able to see the cherry blossoms in a more leisurely manner at night, so you should take a car for your visit.
Opening hours: 10:00am ~ 5:00pm (Last admission before 4:00pm)
During cherry blossom season 10:00am ~ 8:30pm (Last admission before 20:00) 
Access:https://goo.gl/maps/3L3w9u9PYqT2
■ Typical Blooming Season: late March to early April
<Area Information>
■ Kishiwada Danjiri Kaikan :http://www.city.kishiwada.osaka.jp/soshiki/36/danjiri-kaikan.html
This is an attraction where you can learn about Kishiwada city's traditional festival, "Danjiri Festival". Danjiri is a distinctive festival in the Kishiwada district where men pull around the floats and stalls dedicated at the festival, and many visitors come to see the festival every year. Danjiri Kaikan is popular with tourists, and you can view 3D movies of festivals and exhibitions of floats/carts, etc.
Avoid the crowds! Suburban Osaka's Secret Hanami Spot
1. Eiraku Dam (Kumatori Town, Sennan District) )
Surrounded by mountains and forests, it is location where you can enjoy cherry-blossom viewing in a natural environment. There is a park adjacent to the dam with hiking trails, so you can enjoy a hike while appreciating the landscape. The cherry blossoms against the mountain backdrop are spectacular and powerful. The cherry blossoms are illuminated between 6:00pm to 9:00pm in the evening during the season, so you can also watch cherry blossoms at night.
■ Typical Blooming Season: late March to early April
■ Why is it less crowded?
Since it is located along a national highway away from ​​Osaka City and hard to reach without a car, you can take your time appreciating the blossoms as there are less people around. There are many parking spaces available, so you should not encounter any delays in getting in.
■Access:https://goo.gl/maps/Lqt6kEM6rPJ2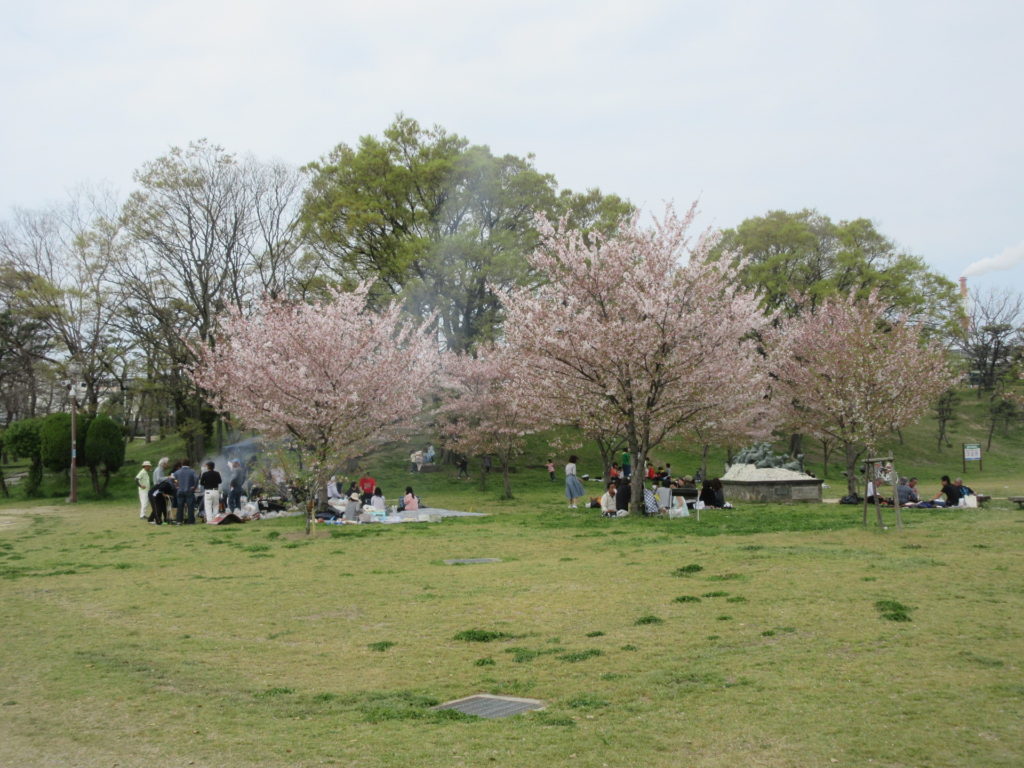 This is a large-scale park loved by local people, usually used for sports and recreational activities. As cherry blossoms are planted all around the park, you can enjoy a different atmosphere from other cherry blossom spots. It is recommended for couples, families and groups of people who want to enjoy a Japanese style hanami (cherry-blossom viewing).
■ Why is it less crowded?
Since area of ​​the park grounds is enormous, we can explore in a relaxed manner without having the hanami visitors crowding a particular area. Most of the visitors are locals and few are tourists.
■Access:https://goo.gl/maps/RBQw39nYStt
Tips and Tricks to avoid the crowds
■ View cherry blossoms in the evenings
If you're visiting a cherry-blossom viewing spot that gets illuminated in the evenings, you should visit after 7pm as you will find there will be significantly less people. During the cherry blossom season, it is still cool in the evenings in this area, so few people will decide to brave the cold to see the cherry blossoms at night. If you have a car, you don't have to travel in the cold and you can also go to see the cherry blossoms after dinner.
■ Go to places where it is hard to reach by trains or buses
The cherry-blossom viewing spot that is far away from a train station is relatively less crowded. Locations near national highways, natural parks and mountains are less congested on weekdays. Since you can tour efficiently when you use a car, it would be a good idea to plan a schedule with other tourist attractions that you want to visit.